ON-Delay Interval Timer (1/16 DIN) provides multifunction support.
Press Release Summary: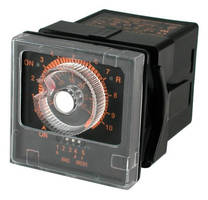 Model 405AE features on-delay and interval timing modes that each features 8 selectable time ranges and SPDT contact output configuration (5 A resistive). In on-delay mode, contacts transfer at time-out. In interval mode, contact transfer occurs when power is applied to device and released at time-out. Power options include 110 Vac and 24 Vac/dc, and 1/16 DIN housing carries IP40 rating for face plate. Analog dial is optimized for readability, and LED status indicator is standard.
---
Original Press Release:

Automatic Timing & Controls Introduces Cost-Effective Multi-Function 1/16 DIN ON-Delay Interval Timer



Newell, West Virginia, USA – Automatic Timing & Controls, a division of Marsh Bellofram Corporation (www.marshbellofram.com) and an ISO9001:2008 certified leading manufacturer of industrial 1/16 DIN timers, digital and electromechanical timers, counters, solid state cube and plug-in timers, and time delay relays (TDR), has announced the global market introduction of its new Model 405AE, a cost-effective 1/16 DIN on-delay interval timer, providing reliable, multi-functional timing support within a single device.



The Model 405AE features two modes of operation: either on-delay or interval timing. Each features eight selectable time ranges and a SPDT contact output configuration rated for 5 amps resistive. When the timer is in on-delay mode, the contacts transfer at time-out. When in interval mode, contact transfer occurs when power is applied to the device, and then released at time-out.  All Model 405AE timers may be powered using either a 110 VAC or 24 VAC/DC supply voltage, thereby reducing inventory management requirements on replacement units. Both Mode Select and Range Select switches are located on the front of the unit. An extra-large and easy-to-read analog dial on the Model 405AE further offers clearly marked decimal points of fractional ranges. An LED status indicator is also onboard for visual indication of power on and relay on functions. Their 48mm (1/16 DIN) housing is compact and rated for IP40 on the face place. Units offer a 5A SPDT output contact rating and are both UL recognized and CE certified. They are easy to install, maintain and replace, with mounting via an 8-pin round socket.



Typical applications for the Model 405AE are found within OEM equipment, packaging and plastics machinery, machinery and conveyor control, motors and pumps, and the process industries. All Marsh Bellofram quality products are available from the company's global corporate headquarters in Newell, West Virginia, with typical standard lead times of less than 10 business days. Expedited deliveries are available upon request. Timing products are further supported by an extensive worldwide sales and distribution network. For more information about the Model 405AE series or other timer and counter products available from the Automatic Timing & Controls division of Marsh Bellofram Corporation, please contact the company toll-free at 1-800-727-5646, via email at customerRFQ@marshbellofram.com, or visit www.marshbellofram.com.



Advertising/Editorial Inquiries:

Molly Bakewell Chamberlin

President

Embassy Global, LLC

Tel: 1-800-309-6150 or +44 (0) 2030 148924

inquiries@embassyglobalpr.com  



More from Electrical Equipment & Systems