On-Board Recorder helps fleets, operators protect CSA scores.
Press Release Summary: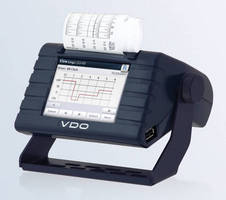 Installed in 15 min, VDO RoadLog™ Electronic On Board Recorder (EOBR) enables drivers to record and report key compliance data. Built-in printer creates instant paper report of daily log book data, hastening roadside inspections. In addition to delivering automated Hours of Service (HOS) logs with GPS accuracy, system can also provide compliance data such as Vehicle Inspection and Repair Maintenance (DVIR). Unit can also issue allowable limit warnings and supports data download via USB.
---
Original Press Release:

VDO RoadLog EOBR Helps Fleets and Independent Operators Protect CSA Scores



• Delivers simple, all-in-one solution for daily log book and compliance reporting



Allentown, PA – The new VDO RoadLog™ Electronic On Board Recorder (EOBR) developed by Continental Commercial Vehicles & Aftermarket, a leading global supplier of systems and components to automobile and truck manufacturers and the world leader in Electronic On Board Recording technology, offers fleets and independent operators a simple, all-in-one solution for daily log book and other compliance reporting.



VDO RoadLog EOBR allows drivers to record and report Hours of Service (HOS) as well as other key compliance data quickly and easily. It's a complete regulatory compliance system that can help carriers and drivers protect their CSA scores, so they can qualify for the most profitable loads and lower insurance rates.



Most affordable electronic log on the market

The VDO RoadLog is the most affordable electronic log on the market. There are no monthly fees, long term contracts or smartphones required. This innovative compliance tool features a built-in printer that creates an instant paper report of daily log book data so drivers can get through roadside inspections quickly and be back on the road faster and easier than with any other electronic log. In addition to delivering automated HOS logs with GPS accuracy, Roadlog can also provide other key compliance data such as Vehicle Inspection and Repair Maintenance (DVIR).



According to Alexis Capelle, Segment Leader, Tachograph, Telematics and Services- Continental Commercial Vehicles & Aftermarket Business Unit NAFTA, "EOBR is happening now and will soon be legally required. Our new VDO RoadLog Electronic On Board Recorder sets the standard for affordability, cost-effectiveness and overall simplicity, and will play a key role in helping fleets and independent operators to protect and improve their CSA scores."



Keeping drivers on the move VDO RoadLog is easy to use and installs in as little as 15 minutes. It can automatically track the driver's time in one of four categories: On-duty, Driving, Sleeper Berth and Off-duty, and provides a warning if allowable limits will be exceeded. At the completion of a trip, the driver can download the data, which includes hours of service, vehicle inspections, shipping document and asset updates, to a Driver Key (USB).



RoadLog's software is flexible and up-dateable to meet anticipated DOT compliance requirements. Free upcoming software updates will include reporting on IFTA mileage and IRP miles and compliance with rules for Canada, Alaska and oil field.



For more information, visit: www.vdoroadlog.com, or contact: roadlog-sales@vdo.com.



With sales of Euros32.7 billion in 2012, Continental is among the leading automotive suppliers worldwide. As a supplier of brake systems, systems and components for powertrains and chassis, instrumentation, infotainment solutions, vehicle electronics, tires, and technical elastomers, Continental contributes to enhanced driving safety and global climate protection. Continental is also an expert partner in networked automobile communication. Continental currently has approximately 170,000 employees in 46 countries.



The Automotive Group with its three divisions Chassis & Safety (sales of approximately Euros7.0 billion in 2012, 34,500 employees), Powertrain (sales of approximately Euros6.1 billion in 2012, 31,000 employees) and Interior (sales of approximately Euros6.4 billion in 2012, 33,000 employees) achieved sales of approximately Euros19.5 billion in 2012. The Automotive Group is present in more than 170 locations worldwide. As a partner of the automotive and commercial vehicle industry, it develops and produces innovative products and systems for a modern automotive future, in which cars provide individual mobility and driving pleasure consistent with driving safety, environmental responsibility and cost-efficiency.



Within the Continental Interior Division the Commercial Vehicles & Aftermarket Business Unit accommodates the specific requirements of the commercial vehicle, special vehicle and aftermarket sector. A global network of sales and service companies ensures proximity to local customers. Covering the product brands Continental, VDO, ATE and Barum the Business Unit offers electronic products, systems and services for commercial and special vehicles, a broad selection of products for specialized workshops and spare parts for the Independent Aftermarket and the Original Equipment Services after end of series production of the vehicle manufacturer.



Contact for journalists:



AnnaMaria Blose

Director, Marketing Communications

Continental

Interior / Commercial Vehicles & Aftermarket

6755 Snowdrift Road, Allentown, PA 18106

Tel: (610) 289-0488 ext. 4002, Fax: (610) 289-1766

Email: annamaria.blose@continental-corporation.com

More from Electrical Equipment & Systems