Omron's PET Bottle Detection Sensor E3ZM-B in SUS316L Housing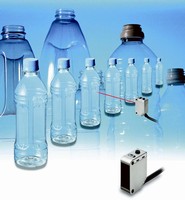 SCHAUMBURG, IL (October 15, 2007)-Omron Electronic's (www.omron247.com) E3ZM-B
retroreflective photoelectric sensor for accurate PET bottle detection is optimally designed to withstand the harsh conditions associated with chemical and detergent washdowns in food and beverage production. Housed in a moisture proof, 316L stainless steel enclosure that meets IP69K standards for high-temperature, high-pressure washdown requirements, the E3ZM-B outperforms sensors in conventional plastic or die-cast metal housings for 200 times longer working life. As a result, the E3ZM-B eliminates the downtime to service and replace sensors and immediately improves productivity.

This sensor utilizes advanced P-Opaquing technology that provides a breakthrough in
detection stability that overcomes challenging geometry, color and contents of PET bottles. Setup is easy with a one-touch teaching button. Simple red, yellow and green lights indicate when object detection is optimized. The sensor's lens automatically adjusts to detect in a dustor dirt-contaminated environment using Omron's unique AC3 (Automatic Compensation Control for Contamination).

The E3ZM-B case design protects against wicking or chemical decay of internal components with an armored power cable/housing interface. There case has no seams to catch stray food particles, and the unit is laser-marked rather than labeled to eliminate the possibility of loose material contaminating the processing area. The RoHS compliant sensor contains no lead or other hazardous materials. Models are available for M8 connector or pre-wired requirements.

The E3ZM-B is ideal where difficult-to-detect PET bottles are used in blow molders, fillers, bottlers, dairy, cappers and packaging equipment and frequent washdowns are unavoidable. The sensor withstands repeated high-pressure, high-temperature washdown using strong disinfectants such as TEK121 and Ecolab P3-Oxonia Active 90, and foam detergents such as Ecolab Topax 66s. The operating temperature range is from -40° to 60°C (-40° to 140°F). The sensor detects PET bottles over a 100 to 500 mm sensing range with a special reflector.

The E3ZM-B PET bottle detection sensors are available from stock, starting at $185. For
further information, contact: Omron Electronics LLC, 1 Commerce Drive, Schaumburg, IL
60173. Tel.: 1-866-88-OMRON. Fax: 847-843-8081. Internet: www.omron247.com

Omron Electronics LLC is a leading manufacturer and provider of industrial automation
products and solutions. Offering complete automation connectivity, extensive product groups include machine vision systems, programmable controllers, sensors, operator interfaces, RFID systems, temperature controls, and software. Omron also provides data collection, inspection systems, motion systems and automation systems services and products. Omron Electronics LLC is the Americas automation subsidiary of Omron Corporation, a $6.3 billion global leading supplier of reliable, advanced electronics and control system components and services.


More from Packaging Products & Equipment