Omron's A2W Wireless Pushbutton Wins "Switches & Sensors" Category in LEAP Awards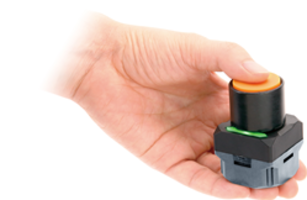 Omron Automation Americas, a global leader in end-to-end solutions for industrial automation, is proud to announce that its A2W Wireless Pushbutton won the WTWH LEAP award in the category of Switches & Sensors.
Hoffman Estates, ILL. (PRWeb) February 15, 2019 -- Industrial automation solutions provider Omron Automation Americas is honored to have been chosen as the winning finalist in the category of Switches & Sensors for the LEAP Awards. Run by business-to-business publisher WTWH Media, LLC, this prominent design engineering competition celebrates the most innovative new products in a variety of technology areas.
Omron's winning product is its A2W Wireless Pushbutton, a battery-free device that improves flexibility through eliminating the need to install extra infrastructure including wiring and conduits. Overall, the A2W offers manufacturers more freedom, less maintenance and world-class reliability with a 922.2 MHz frequency band that allows it to reduce interference while providing highly reliable wireless communication.
Comments from the judges singled out the pushbutton's exceptionally low power requirements as well as its ability to reduce complexity on the production line. "Great product and technology; an implementation of low-low-low power. Excellent!" they wrote in their summary. "Great concept to eliminate complex wiring in a crowded electrical circuit and other applications."
The LEAP Awards – short for "Leadership in Engineering Achievement Program" – honor the best product designs in 14 categories, including Additive Manufacturing, Connectivity, Hydraulics, Motion Control and several more. Omron was also a finalist for its CIP Safety Controller in the category of Industrial Automation.
Omron is proud to have been selected for the award and looks forward to continuing its efforts to design and launch innovative new products that help manufacturers improve their throughput and flexibility.
To learn more information on the A2W Wireless Pushbutton, please click here.
About Omron Automation
Omron Automation is an industrial automation partner that creates, sells and services fully integrated automation solutions that include robotics, sensing, motion, logic, safety and more. Established in 1933 and currently headed by President Yoshihito Yamada, Omron's 36,000 employees help businesses solve problems with creativity in more than 110 countries. Learn more at omron247.com.
Contact Information
Maggie Liu
Omron Automation Americas
http://omron247.com
8472857122