Omni-Directional Antenna suits in-building wireless networks.
Press Release Summary: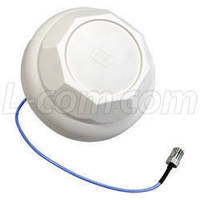 With PIM rating of less than -150 dBc and coverage from 700–2,700 MHz, HyperLink® HG72705CUPR-NF supports cellular 4G/LTE, Personal Communication Services, and Wi-Fi 802.11b/g wireless networks. Unit can be mounted through single 11/16 in. hole in solid or suspended ceiling that is up to 1 in. thick. Antenna features single 15.7 in. coax lead terminated with N-Female connector. Single-feed system is achieved through use of internal combiner.
---
Original Press Release:

L-com Launches Low-PIM-Rated Omni-Directional Ceiling-Mount Antenna



NORTH ANDOVER, Mass. – L-com Global Connectivity, a preferred manufacturer of wired and wireless connectivity products, announced today that it has developed an Omni-directional ceiling-mount antenna that is designed specifically for in-building wireless networks such as DAS applications.



L-com's HyperLink® brand HG72705CUPR-NF antenna can provide coverage from 700 MHz to 2700 MHz in a single antenna package. This enables the antenna to support networks that include cellular 4G/LTE, Personal Communication Services (PCS) and Wi-Fi 802.11b/g wireless networks. Combining these capabilities into a single antenna eliminates the need to purchase separate antennas for each wireless network type.



The HG72705CUPR-NF is also a low-PIM-rated antenna. With a low-PIM rating of <-150 dBc, it meets the most demanding PIM requirements for LTE/4G bands. 



"It is important that the components used in DAS applications have a low-PIM rating so that the best performance can be achieved. That is why we have started to design many of our antennas to be low-PIM- rated," said Ken Burgner, Product Manager.



This Omni-directional ceiling-mount antenna is designed to be aesthetically pleasing so that it is suitable for most indoor environments. It can be mounted through a single 11/16-inch hole in a solid or suspended ceiling that is up to 1-inch thick.



The HG72705CUPR-NF features a single 15.7-inch coax lead terminated with an N-Female connector. The single-feed system is achieved through the use of an internal combiner. It only requires one coaxial cable to be sent to the antenna, which simplifies installation.



For more information about this release, please contact:

Peter McNeil

Marketing Manager

978-682-6936 x1174

mailto:pmcneil@l-com.com



About L-com Global Connectivity:

L-com Global Connectivity, a preferred manufacturer of wired and wireless connectivity products, offers a wide range of solutions and unrivaled customer service for the electronics and data communications industries. The company's product portfolio includes cable assemblies, connectors, adapters, computer networking components, and custom products, as well as their HyperLink® brand of wireless products which include antennas, RF amplifiers, coaxial lightning and surge protectors, and NEMA rated enclosures. L-com's HyperLink® wireless products are designed for WiFi, WiMAX, SCADA, 802.11a/b/g/n/ac, RFID and Bluetooth applications. In addition to HyperLink® , L-com's other brands include MilesTek®, specialists in Military/Aeronautics connectivity solutions and Aiconics®, a leading manufacturer of electrical connector products.  Trusted for more than 30 years, L-com, which is headquartered in North Andover, Mass., is ISO 9001: 2008 certified and many of its products are UL-recognized. For more information, please visit:  http://www.L-com.com/



Friendly & Knowledgeable Service - In Stock Availability & Same Day Shipping - 100% Satisfaction Guaranteed

Connect with L-com:   Twitter   Facebook   YouTube   Google+  LinkedIn



Related