Waterjet Cutters and Cutting Machinery
OMAX Highlights Waterjet's Composite Cutting Capabilities at CAMX 2017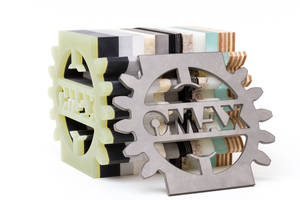 KENT, Wash., July 07, 2017 - At CAMX 2017, OMAX® Corporation will highlight the benefits and advantages of using their abrasive waterjets to machine composites and advanced materials in booth E48. Waterjet experts will discuss how recent advancements in waterjet technology have made these machines extremely precise and require minimal set-up time, even when cutting complex geometries.
Visitors to the OMAX booth will learn how the process of abrasive waterjet machining is ideal for composites and advanced materials because there is no heat affected zone (HAZ), no change to the material properties, and the small kerf size allows for close nesting of parts to maximize material usage. Attendees will also have the opportunity to watch software demonstrations to see how intuitive OMAX waterjets are to use, requiring no special programming skills.
Waterjet experts in the OMAX booth will be available to answer questions, explain the wide variety of the company's table size offerings and accessories, and to discuss how OMAX machines can be configured to meet the cutting needs of any business, from one-off prototypes to high capacity production.
About OMAX Corporation
Based in Kent, Washington, OMAX Corporation is the global leader in advanced abrasive waterjet systems that cut virtually any material and thickness with unmatched speed and accuracy. Owner of the OMAX and MAXIEM brands, the company provides a comprehensive selection of JetMachining Centers that feature intuitive software controls and incorporate the most efficient pump technology available. In developing its machines, the company designs, manufactures, assembles and tests components as a complete system to ensure optimum performance. The company also has the most comprehensive service and support network in the waterjet industry to keep its customers ahead of the manufacturing curve. For more information, visit OMAX.com
MEDIA CONTACTS:
OMAX® Corporation
Stephen Bruner
Vice President of Marketing
253.872.2300
More from Mechanical Components and Assemblies