OLED Displays come in character and graphic models.
Press Release Summary: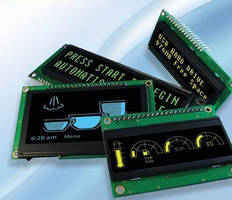 Self-illuminating, OLED Displays require no backlight for maximum visibility in all environments. Character OLED modules use serial or parallel MPU interface, have 4 built-in font tables, and can be used as replacements for LCD or VFD modules. Graphic OLED modules, featuring all-in-one design, include required external logic and voltages. With viewing angle up to 160°, displays offer response time of 10 µsec, contrast ratio of 2,000:1, and operating temperature of -40 to +80°C.
---
Original Press Release:

Newhaven Display International Inc. Introduces New Character and Graphic OLED Displays.



Newhaven Display International, Inc., known for its affordable, high quality display products and services, announces that they are now offering Character and Graphic OLED Displays.

The new OLED (Organic Light Emitting Diode) is a brighter, higher contrast display that has faster response times, wider viewing angles, and consumes less power than conventional VFD, LED or LCD Displays. OLED displays are self-illuminating and require no backlight for maximum visibility in all environments. This also allows OLEDs to be significantly thinner than standard VFD, LED or LCD displays. Newhaven Display offers Character and Graphic type OLED displays as complete, easy-to-use modules.

Newhaven Display's Character OLED modules come in standard sizes and can be used as compatible replacements for LCD or VFD modules. They use serial or parallel MPU interface, have LCD compatible instructions and 4 built-in font tables.

Newhaven Display's Graphic OLED modules are easy to use, all-in-one designs. Most Graphic OLED displays require multiple high-voltage power supplies and external logic components. Newhaven Display's custom designed module boards for each Graphic OLED allow the user to have just one interface supply. The Graphic OLED module board has all the required external logic components, making it fast and easy to start using the displays.

Features:

o Fast response time: 10µs

o Wide viewing angle: Up to 160°

o Thin designs

o Self-illuminated; no Backlight necessary

o Low power consumption

o High Brightness

o High Contrast ratio: 2000:1

o Wide Operation Temperature: -40°C to +80°C

o Serial or Parallel MPU interface

o Character Module OLEDs include 4 built-in Font Tables

o Graphic Module OLEDs include required external logic and voltages

o RoHS Compliant

For more information on the OLED Displays, visit www.newhavendisplay.com or contact nhtech@newhavendisplay.com

Known for its wide variety of VFD and LCD Displays, unparalleled customer service, and value add services, Newhaven continuously offers the industry an advantage by their constant drive to go beyond the industry standards to satisfy the needs of every customer.

About Newhaven

Newhaven Display provides the North American marketplace with cost effective, high quality display devices ranging from LCD to VFD. In addition to our vast standard part offerings, we develop custom designs for all industries. We pride ourselves on first-rate customer support and development assistance.

All products are stocked at our Elgin, Illinois USA warehouse. Marketing is done with Mouser and Digi-Key as our major nationwide stocking distributors, along with independent sales representatives. All displays are manufactured at our partner factories. These are state-of-the-art facilities with over 16 years of experience with QS-9000, ISO-9001, ISO-14001 and TS-16949 certifications.

Please send all sales inquiries to:
Nhsales@newhavendisplay.com

Please send all technical inquiries to:
Nhtech@newhavendisplay.com

More from Machinery & Machining Tools