Oldham Couplings operate with zero backlash.
Press Release Summary: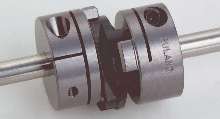 Featuring balanced design for reduced vibration, Paradrive oldham couplings are comprised of 2 hubs and acetal or nylon floating center disk. Torque transmission is accomplished by mating slots in center disk with drive tenons on hubs; slots fit with slight press. Disks are electrically isolating and can act as mechanical fuses. Couplings are offered in 7 sizes of set screw or Nomar clamp style anodized hubs with bores from 1/8-1 in.
---
Original Press Release:

Complete Line of Oldham Couplings - Zero Backlash with Light Bearing Loads


Marlborough, May 2004. Ruland Paradrive oldham couplings are a three piece design comprised of two hubs and a floating center disk. The center disk, which is available in acetal for high torsional stiffness or nylon for shock absorption and vibration dampening, is the torque transmitting element. Torque transmission is accomplished by mating slots in the center disk, located on opposite sides of the disk and oriented 90 degrees apart, with the drive tenons on the hubs. The slots fit with a slight press fit. The press fit allows the coupling (with acetal disk) to operate with zero backlash. In operation, the center disk slides on the tenon of the hub to accommodate misalignment with light bearing loads.

The oldham design has many advantages. Like jaw couplings, the three piece design eases blind assembly. However, unlike the jaw couplings, oldham couplings are particularly well suited for handling misalignment, particularly large amounts of parallel offset, without stressing bearings and seals. Ruland Paradrive oldham coupling hubs are machined to a fine finish, resulting in a longer zero backlash life. The result is substantial savings in terms of maintenance and machine downtime. The hubs are also balanced to allow for higher speeds. While over time the sliding of the disk will create wear and the coupling will cease to be zero backlash, the disk can be easily replaced and the coupling's original performance restored. The disks are also electrically isolating and can act as a mechanical fuse. When the disk fails it breaks cleanly and does not allow any transmission of power, preventing other damage from occurring to more expensive machinery components.

Paradrive oldham couplings are offered in seven sizes of set screw or Nomar clamp style hubs with bore from 1/8" (3mm) to 1" (25mm). The hubs are anodized for improved lubricity and increased life. The couplings feature a balanced design for reduced vibration in higher rpm applications. Common applications for Paradrive oldham couplings include encoders, positioning systems using servo and stepper motors, and other light duty drives. They are also useful in applications where easy component removal is desired. For example, they can be used to attach rollers on presses so that easy removal for cleaning is facilitated.

Company Profile:

Ruland Manufacturing Co., Inc. has been a precision manufacturer since 1937, making a variety of products including the valve that pressurized the spacesuit of the first American to walk in space. Ruland's focus for the past 40 years has been on making high quality shaft collars and couplings. The complete line of products includes Ruland Nomar shaft collars and rigid couplings, and a full line of motion control couplings: Flexbeam beam couplings, Belflex bellows couplings, Paradrive oldham couplings, Discflex miniature disc coupling and the Jawflex zero backlash jaw coupling.

Contact:

Ruland Manufacturing Co., Inc.
6 Hayes Memorial Drive
Marlborough
MA 01752, USA
Phone 001 508 485 1000
Fax 001 508 485 9000
E-mail sales@ruland.com
Internet www.ruland.com

More from Electronic Components & Devices