Oil Systems provide filtration and cooling of lube oil.
Press Release Summary: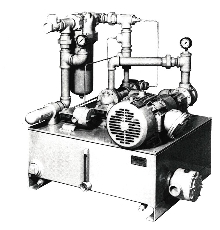 Circulating Oil System is reliable in dirty and corrosive environments. Custom-engineered system provides continuous operation under adverse conditions. Construction involves welded sheet steel tank with mounting base for pump. Tank is sealed to prevent moisture and foreign matter from entering. It comes with filler cap with breather assembly and strainer. Baffle prevents sloshing, and minimizes turbulence and aeration of oil.
---
Original Press Release:
Circulating Oil Systems

Oil-Rite's Circulating Oil Systems are reliable in extremely dirty and corrosive atmospheres. The systems also provide filtration and cooling of the lube oil to insure perfect lubrication. The custom-engineered systems are absolutely essential to provide continuous operation under adverse conditions. These systems are widely used in Paper, Rubber, Textile, Machine Tool Industries, Offshore Drilling and Hydro-Electric Equipment. Circulating Oil Systems are the most versatile, cost-effective means for lubricating large, expensive bearings.

Each application should be determined by the degree of requirements and protection desired. For instance, a partially or completely fail-safe Circulating Oil System may be required, or a duplicate set of pumps with provision for automatic changeover may be needed. Perhaps the temperature of the oil supply must be maintained within predetermined limits. In each of these cases, appropriate sensing devices for control need to be provided.

Construction involves a tank of heavy sheet steel, welded. The tank cover serves as a mounting base for the pump and other components and is sealed to prevent moisture and foreign matter from entering the tank. A filler cap with a breather assembly and a large strainer is provided.

A baffle divides the tank into two compartments to prevent sloshing, to minimize turbulence and aeration of oil, and to create a quiet zone for pumping action. Each of the two compartments has a drain located at the lowest point. The return line inlet on the tank is located close to the bottom. Oil gages with a 2-inch diameter dial thermometer simultaneously show oil level and oil temperature.

The pump is driven by an electric motor through a guarded flexible coupling, making it easy to replace either motor or pump. Oil from the tank passes through a suction filter and is pumped through an 80-micron full flow filter to an adjustable by-pass valve, which is set at the desired line pressure. A check valve in the outgoing line is also furnished.

Oil-Rite's circulating systems oil temperature can be maintained within specified limits by an immersion heater with a built-in thermostat. Cooling is accomplished by an air-cooled heat exchanger mounted at the side of the tank on a common mounting base or a water-cooled heat exchanger mounted on the tank cover. An adjustable thermal switch in the oil tank is connected to the air-cooled exchanger fan circuit, thus monitoring the oil temperature.

Additionally, high and low pressure protection is provided by a pressure switch with two independently adjustable switches, one actuated by high pressure and the other by low pressure. This feature allows the use of warning signals, complete shutdowns, etc.

All units are thoroughly tested at the factory, checked for alignment, leaks, and functioning of all component and controls. Oil-Rite has been building Circulating Oil Systems for over a quarter century and is fully prepared to design and build special units to customer specifications.

The circulating systems are of exceptional high-quality, offer vital protection and are cost effective for lubricating large, expensive bearings. For further information on circulating systems, and on the entire Oil-Rite line, contact:

Carolyn M. Boldt

President

Oil-Rite Corporation

4325 Clipper Drive

P.O. Box 1207

Manitowoc, WI 54221-1207

Telephone: (920) 682-6173

Fax: (920) 682-7699

Internet: www.oilrite.com

E-mail: sales@oilrite.com
More from Mining, Oil Drilling, Refining Products & Equipment