Oil Skimming Belt has textured surface to facilitate clean-up.
Press Release Summary: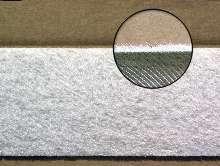 Incorporating embedded metal filaments in belt to protect against static electricity build-up, Light Fuel Oil (LFO) Polymer Fuzzy Belt withstands exposure to harsh chemicals and solvents. Surface design, with thousands of fibers per square inch protruding from belt, increases effective surface area for gasoline and non-viscous oil removal. This results in removal rates for fuel oil in gallons per hour range.
---
Original Press Release:

Polymer "Fuzzy" Belt Oil Skimmer Material Improved to Withstand Harshest Environments


Cleveland, OH - June 2, 2004 - Abanaki's Oil Skimmer Division announces a major improvement in unique skimming technology - the Light Fuel Oil (LFO) Polymer "Fuzzy" Belt. The improved Fuzzy material now stands up to extremely harsh chemicals and solvents. More embedded metal filaments have been added to the belt to further protect against static electricity build-up. Thanks to the belt's innovative surface design, Abanaki oil skimmers now offer unprecedented removal rates for gasoline and other light, non-viscous oils. Traditionally, belt skimmers use smooth-surfaced pickup media to remove oil. The unique Fuzzy Belt has literally thousands of fibers per square inch protruding from the belt, adding tremendously to the effective surface area. Gasoline pickup is 200 times greater than with a conventional smooth belt.

Instead of measuring removal rates of very light oils in "cups per hour," the LFO polymer belt removes fuel oil in the gallons per hour range. This means belt skimming is now a more cost-effective alternative to the traditional product-only pumping system. Belt skimmers are also not affected by changes in water levels and do not suffer from decoupling. This makes periodic maintenance much simpler.

"Belt skimmers have always been able to perform as well as pumps for removal of heavy oils," says Tom Hobson, product manager at Abanaki, "Now with the new improved Fuzzy Belt, we can offer the best method to remove gasoline, solvents and light oils. Skimmer belts travel through the oil and water at relatively slow rates and the oil is gently wiped off; no aeration or emulsification takes place as can happen with pumps. With the Fuzzy Belt, our PetroXtractor© groundwater oil skimmer unit can remove up to three gallons of gasoline per hour from a two inch diameter monitoring well, six gph from a four inch diameter well and 12 gph from a six inch diameter or larger well. Since most wells don't recover this fast, we are able to remove as much oil and gas as a pump with more efficiency."

Heavier oils are easily skimmed with traditional belts because they form a thick layer on the belt material; gasoline and other light fuel oils would only form a thin layer due to their low viscosity. The Fuzzy Belt allows these non-viscous oils to form a thick layer by combining surface area with surface tension. The oil coats each fiber with a thin layer along its entire length, but because the fibers are in such close proximity, surface tension retains oil between the fibers. The result is a thick layer of light fuel oil and therefore a much greater removal rate than could previously be achieved.

Utilizing this dramatic technology, more oil can be removed from the water, and removed faster.

The Fuzzy Belt is just one of many industry-leading oil/water separation products from Abanaki Corporation. Headquartered in Cleveland, Ohio, Abanaki has served a global customer base in industries as diverse as iron and steel, wastewater, paper, food processing, automotive, environmental remediation, and recycling for more than 30 years.

For more information about Abanaki products, contact Chris Ott at (440) 543-7400 or (800) 358-SKIM (7546), or by e-mail: cott@abanaki.com. See the full-line of Abanaki products and services online at www.abanaki.com.

Related