Oil Purifier is designed for rotary screw air compressors.
Press Release Summary: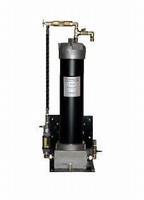 Compressor Oil Purifier (COP) is designed to remove corrosive acids and catalytic solids that accelerate oil degradation, wear, corrosion, and fouling in rotary screw compressors. Dual core design of COP cartridges incorporates outer core to remove solids down to 3 microns absolute, followed by inner core of ion exchange media to adsorb and neutralize acids. COP installs in auxiliary loop to compressor's main oil circuit.
---
Original Press Release:

Fluid Metrics Introduces Compressor Oil Purifiers



Increase Fluid Life and Air Compressor Reliability with Acid Adsorption and Ultra-fine Filtration

Atlanta, GA - Fluid Metrics, LLC introduces a revolutionary, proactive maintenance device designed specifically for oil-flooded rotary screw air compressors. The Fluid Metrics' Compressor Oil Purifier (COP), with ProACT Acid Control Technology, combines proprietary ion exchange acid adsorption with ultra fine particle filtration to remove the acids and catalytic solids known to accelerate oil degradation, wear, corrosion and fouling in rotary screw compressors. The system employs a patent-pending, K9 housing cartridge manufactured by Schroeder Industries.

Fluid Metrics recognized that specific fluid contaminants (acids and ultra-fine solids) were the root cause of most compressor repairs and failures and, with the elimination of these pollutants, compressor users would realize dramatic extensions in the service life of expensive compressor fluids, separators, bearings, and shaft seals.

With this knowledge, Fluid Metrics turned to the recognized leaders in filtration and fluid conditioning, Schroeder Industries, and leading innovators in synthetic compressor lubricants and liquid separation, The Dow Chemical Company, for state-of-the-art technologies designed to target and remove these contaminants. The result of this collaboration is an innovative, cost-effective line of COP's that easily mount onto any rotary screw compressor to purify the oil, reduce maintenance and operation costs, and increase compressor reliability.

Unlike traditional and more costly "preventative" maintenance techniques that rely upon the regular replacement of expensive fluids and separators to rid compressors from contamination, the COP is a "proactive" maintenance device that selectively removes destructive, clearance-sized solids and corrosive acids before they can negatively impact fluid and component service life.

The heart of the COP's ProACT Acid Control Technology is its patent-pending cartridge design by Schroeder Industries. The COP cartridges utilize a dual core design that incorporates an outer core of high dirt holding capacity synthetic media to remove solids down to 3 microns absolute, followed by an inner core of proprietary ion exchange media specially developed by Dow Chemical to adsorb and neutralize acids that are produced and accumulated in synthetic compressor fluids.

This unique combination of separation technologies has produced dramatic results, extending compressor fluid life by three to five times, extending separator life by two to three times, and lowering compressor energy consumption by as much as 3 percent. Performance of the COP is easily verified through routine oil analysis by monitoring fluid Total Acid Number (TAN), pH and ISO particle counts.

The COP installs easily in an auxiliary loop to the compressor's main oil circuit. Unlike standard full flow oil filters, where filtration performance is limited by pressure drop, the COP purifies a relatively small slip-stream of oil at low velocities and high surface areas, thereby maximizing contact time with both filtration and acid removal medias. Each COP comes complete with its own installation kit which includes a mounting bracket, high pressure supply and return hydraulic hoses, flow meter, sight flow indicator, automatic vent, sample and drain valves, and isolation valves that permit cartridge replacement without having to shut down the compressor.

The Fluid Metrics' COP can be used on any brand rotary screw air compressor and with all of today's most common compressor fluids, including Polyglycol/POE, PAO, Food Grade PAO's, Hydro-treated Petroleum, and Ester based fluids. The COP will benefit all compressors, whether they are operating in a normal environment and achieving full fluid life, or operating in a severe environment with drastically reduced fluid life. The COP is ideal for any industrial end-user of oil-lubricated rotary screw air compressors, including the pulp and paper, mining and steel, chemical processing, food and beverage, oil and gas, carpet and textile, and general manufacturing markets.

About Fluid Metrics, LLC

Fluid Metrics, LLC is the leading provider of proactive maintenance acid control technologies to the compressor industry. Fluid Metrics is dedicated to creating value for its customers by designing and marketing engineered solutions that reduce user cost and improve equipment performance and reliability.

For further information about Fluid Metrics and its products, call 770-393-8636 or visit
www.fluidmetrics.com

About Schroeder Industries

Schroeder Industries designs, manufactures and markets filtration products for the fluid power industry. Schroeder is a leader in filtration and fluid conditioning. Their expertise in filtration technology, superior filter and element manufacturing capabilities, dedication to customer service, and product support are the reasons Schroeder is considered "The Filter Company."

For further information about Schroeder Industries and its products, call 724-318-1100 or visit www.schroederindustries.com.