Oil Mist Filter promotes safety and machine uptime.
Press Release Summary: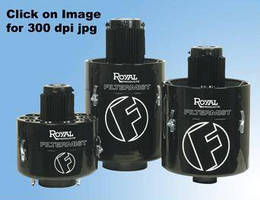 Available in 4 sizes from 275-1,200 cfm, Royal Filtermist FX-Series features flexible design that enables mounting directly to top of machine tool, on stand, or from factory ceiling (suspended). Use of this product helps reduce problems, such as health and accident risks, associated with oil mist while also reducing requisite cleaning and maintenance. This improves productivity by reducing machine downtime.
---
Original Press Release:

Is Oil Mist Hurting Your Productivity?



While many companies are aware of the traditional problems associated with oil mist, (health and accident risks, cleaning and maintenance costs, etc.), few are aware that failure to adequately address mist and smoke issues often results in reduced productivity and increased machine downtime.

In addition to the obvious effects of oil mist, production is often reduced as a result of employees dialing back on feeds and speeds in order to minimize mist production. An often overlooked maintenance problem is the effect of oil mist on electrical contacts and electronic circuits.

For the past 30 years, the Royal Filtermist has been effectively collecting oil mist and smoke generated by all types of metalworking machinery. There are currently over 125,000 Filtermist units operating in over 40 countries worldwide, making Filtermist the world's leading mist collector.

Throughout its history, the Royal Filtermist has undergone continuous design improvements. The latest version, the Filtermist FX-Series, is the product of extensive computer-aided modeling and laboratory testing.

The Royal Filtermist is available in four sizes ranging from 275 - 1200 cfm, and its flexible design enables it to be mounted in a variety of ways, including: directly to the top of a machine tool, on a stand, or suspended from a factory ceiling. Maintenance and operating costs of the Royal Filtermist are minimal.

All Royal Filtermist units are sold with a 45-day risk-free performance guarantee to ensure complete customer satisfaction.

For further information on the Royal Filtermist, please call 1-800-645-4174 or go to: www.royalprod.com/product.cfm?catid=1

For over 60 years, Royal Products has been designing and building precision metalworking accessories to help manufacturers squeeze every last drop of performance out of their machine tools.

For more information contact:
Royal Products
200 Oser Avenue
Hauppauge, NY 11788 USA
Toll Free: 1-800-645-4174
Phone: 1-631-273-1010
Fax: 1-631-273-1066
E-mail: info@royalprod.com
Web: www.royalprod.com

More from Material Handling & Storage