Oil Mist Air Cleaner features direct-drive fan.
Press Release Summary: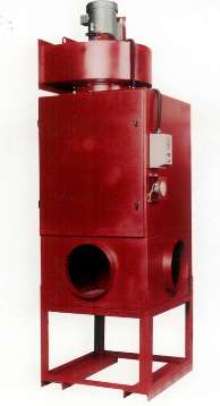 Model OM6000DD captures airborne oil-mist through combination of baffle type oil impingers and oil-mist bag filters. Captured oil drains to bottom of unit and out oil drain. Featuring multiple pick-ups and hinged door that provides air bypass, Model OM6000DD offers capacity up to 6,000 cfm, depending on diameter of 3 inlet plenums. Options include HEPA filter, overload protector, silencer, and floor-mount stand.
---
Original Press Release:
New Oil Mist Air Cleaner Features Direct Drive Fan

New high capacity Model OM6000DD air cleaner from Micro Air® is designed specifically to capture airborne oil-mist through a combination of a baffle type oil impingers and special oil-mist bag filters. Captured oil drains to the bottom of the unit and out the oil drain.

The unit, originally developed to help plants meet OSHA indoor air quality requirements, features a new high capacity direct drive fan, multiple pick-ups, and heavy duty components and construction to meet industrial needs. The hinged door provides air by-pass for maximum efficiency. Capacity up to 6,000 cfm is available depending on the diameter of the three inlet plenums. Options include multiple sizes of inlet plenums, HEPA filter, overload protector, silencer, and floor mount stand. Factory engineering is available through Micro Air distributors.
Micro Air, P.O. Box 1138, Wichita, KS 67201, (316) 943-2351, FAX (316) 943-2717, www.microaironline.com, e-mail: info@microaironline.com
More from Fasteners & Hardware