Oil/Gas Valves feature explosionproof design.
Press Release Summary: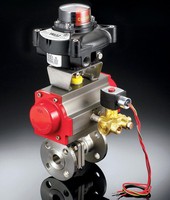 Series A-T liquid and gas shut off valve assemblies are fitted with spring-return automated ball valve, explosionproof limit switch, and solenoid pilot valve. Quarter turn rack-and-pinion actuator design and stem seal system provide shut off capability for the FM class 7400, 7420, and 7422 approved valves. Valves are available 3-piece or flanged models with manual or auto shut-off, 316SS or WCB trim, in 1/4 to 6 in. sizes, with choice of threaded, socket, and butt weld connections.
---
Original Press Release:

New FM-Approved Oil/Gas Shutoff Valves Feature Explosion-Proof Design, Fast Action With Quarter-Turn Actuation, Next Day Delivery



High-trust compact shut-off assemblies offer 3-piece or flanged valves, 316SS or WCB trim, patented world-class stem sealing, and latest quarter-turn automation design

April 2007 - FM-approved valves and valve assemblies for liquid and gas shutoff, new from A-T Controls, bring advanced design, patented features, and build-to-order application flexibility to protection of fuel-burning equipment. Approved to FM class 7400, 7420 and 7422, the A-T shut-off assemblies provide fast action on shut-off needs with next-day delivery and quick quarter-turn actuation. The A-T units feature a spring-return automated ball valve, explosion-proof limit switch and solenoid pilot valve, advanced quarter-turn rack-and-pinion actuator design, superior valve seating, and patented world-class stem seal system. A-T shutoff assemblies provide high-trust reliability and consistent fuel/gas shutoff in a compact, space-saving safety shut-off system.

Configurable to a wide range of shut-off requirements for build-to-order flexibility at standard model economies, valves are available in 3-piece or flanged models, 316SS or WCB trim, and 1/4" to 6" sizes. The 3-piece valves offer choice of threaded, socket weld or butt weld end connections, while flanged valves are available in 150# or 300# flange rating. Assemblies can be ordered with manual safety cocks or automated safety shut-off valves. Solenoids are approved for water-proof as well as explosion-proof environments.

All the valves feature A-T Control's exclusive pyramidal stem seal system. Patented in the U.S., Germany and China, the live-loaded packing system features 45° pyramidal stem and stem seal with Belleville washers and chevron packing. The design gives world-class fugitive emission control, receiving TA-LUFT low-emission certification (the world's most stringent) from the German TUV agency.

Automated shut-off assemblies feature advanced, quarter-turn rack-and-pinion actuator design giving marked performance improvement over older spring-diaphragm technology. A-T Controls specializes in systems assembly, simplifying and speeding installation. It offers packaged solutions and fast delivery from stock on a comprehensive selection of ball valves, actuators and controls for process industries. For more information on FM-approved Shut-Off Valves and Assemblies, contact: Brad Mueller, A-T Controls, 11363 Deerfield Rd., Cincinnati OH 45242. Phone: 513-530-5175. Fax: 513-247-5462. E-mail: sales@a-tcontrols.com. Website: www.a-tcontrols.com.

Related