Oil Content Analyzers can deliver measurements in 3 min.
Press Release Summary: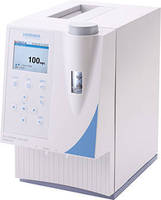 Respectively used for such applications as drain monitoring and component QC, OCMA-500 and OCMA-550 Series feature USB data output port, 3.5 in. color graphic LCD, and as-needed unit conversion function. Japanese, English, and Russian languages are available, and measurement time is ~3 min depending on sample quality. Able to measure any oil with low boiling point, products do not require solvent evaporation process. Measurement mode for OCMA-500 can be switched automatically or manually.
---
Original Press Release:

Introducing the NEW OCMA Series (OCMA-500 and OCMA-550)



Oil Content Analyzers Used for Measurement of Oil of Wastewater & Oil on Components



Horiba's new OCMA-500 & OCMA-550 Series operability is significantly improved while user-friendly features of the conventional products are maintained. This instrument can be utilized across a wide variety of applications such as drain monitoring & quality control of components.



Features offered by both the OCMA-500 & OCMA-550:

• USB data output port

• 3.5 inch color graphic LCD

• Unit conversion function - Indication unit (mg/L, mg/kg, mg/g, mg/PC) can be changed as needed

• Multi-language function - Japanese, English & Russian languages available

• Speedy measurement for approx. 3 minutes (depending on quality of sample)

• Any oil with low boiling can be measured – With no need for a solvent evaporation process, the OCMA-500/550 offers easy operation, & can detect even oils with low boiling points 



OCMA-500 to measure concentration of oil contained in drainage and environmental water. After injecting the water sample and solvent, all you have to do is press the start button, & the system will automatically conduct the monitoring operation from oil extraction to sample measurement and draining. With no more troublesome operations like opening/closing the drainage valve, monitoring is speeded up. In addition, the color graphic LCD and the backlit extraction tank have improved operability.



Features:

• Backlit extraction tank. The extraction tank is equipped with LEDs to easily check phase separation between sample & solvent & set the extraction time

• Reduction of environmental impact & running cost - OCMA-500 cuts solvent consumption by 20% compared with previous products

• Measurement mode can be switched automatically or manually.



AUTO: stirring, measurement & draining are automatically conducted after injection of the sample. MANUAL: You can conduct measurement operation at any timing while checking the extraction state



OCMA-550 to measure residual oil on components and concentrations of oil adhered on solids such as soil. Measurement can be easily made only by injecting the extracted water sample into the attached cell and setting it to the equipment. This model features a simple design which allows opening/closing of the door to setting of cell with just one hand. This is best for measurement of the extracted samples such as evaluation of residual oil on components and measurement of oil contained in food.



Features:

• Timer function to display a measurement value in a certain amount of time

• Cell is easily detachable with just one hand – the simple design allows easy opening/closing of door & detachment of cell

More from Sensors, Monitors & Transducers