OFS Launches Shape Sensor Fiber at BiOS / Photonics West Conferences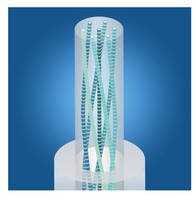 Norcross, Georgia. 25 January 2017 - OFS, a leading designer, manufacturer, and supplier of innovative fiber optic products will showcase its new shape sensor optical fiber at the BiOS / Photonics West Exposition located at the Moscone Center in San Francisco, California from 28 January through 2 February 2017.
OFS has developed a technology platform to produce high quality twisted multicore optical fiber with continuous FBGs (Fiber Bragg Gratings) to meet critical 3D shape sensing specifications such as: twist rate, coating concentricity, grating reflectivity, and grating spacing.
Mr. Jaehan Kim, OFS Medical Market Manager states, "OFS expertise in specialty glass preform design allows us to make a wide range of fibers having optimized features such as multiple cores, select cutoff, specific numerical apertures, and core to core spacing." Mr. Kim continues, "In addition, we developed a platform to write high quality continuous gratings without stripping and recoating the fiber, thus preserving the fiber's mechanical integrity. This manufacturing platform allows for customization and optimization of products to meet various customers' demands."
For more information on these and other OFS products, stop by OFS booth #8728 at BiOS or #1632 at Photonics West. Or you may visit http://www.ofsoptics.com/shape-sensor.html
About OFS
OFS is a world-leading designer, manufacturer and provider of optical fiber, fiber optic cable, connectivity, fiber-to-the-subscriber (FTTx) and specialty photonics products. We provide reliable, cost-effective solutions for a broad range of applications including telecommunications, medicine, industrial automation, sensing, government, aerospace and defense. These products help our customers meet the needs of consumers and businesses, both today and into the future.
Headquartered in Norcross (near Atlanta) Georgia, U.S.A., OFS is a global provider with facilities in China, Denmark, Germany, Russia and the United States. OFS is part of Furukawa Electric Company, a multi-billion dollar leader in optical communications.
Please visit www.ofsoptics.com.
OFS PR Contact:
Natasha Juhasz
Social Media, PR and Project Manager
+1 860-678-6548
OFS Technical Contact:
Jaehan Kim
Medical Market Manager
+1 860-678-6519
Contact This Company Download Spec Sheet
More from Optics & Photonics