Off-Axis Parabolic Mirrors decrease scatter in visible spectrum.
Press Release Summary: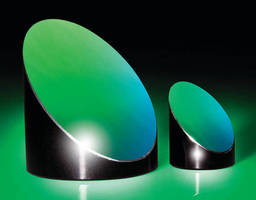 Visually inspected with HeNe laser to ensure low scatter, TECHSPEC® Low Scatter Off-Axis Parabolic Mirrors come in 5 models with diameters of 25.4 or 50.8 mm and effective focal length of 25.4, 50.8, or 101.6 mm. Aluminum substrate mirrors, offering optimized surface roughness and surface figure, direct and focus incident collimated light at 90°, simplifying system integration. Uses include focusing or collimation applications, beam expansion, as well as optical testing systems.
---
Original Press Release:

TECHSPEC® Low Scatter Off-Axis Parabolic Mirrors



Designed to Decrease Scatter in Visible Spectrum



Proprietary design process decreases scatter in VIS



Barrington, NJ - Edmund Optics® (EO), the premier provider of optical components, introduces new TECHSPEC® Low Scatter Off-Axis Parabolic Mirrors. These versitile mirrors are designed for low scatter in the visible spectrum. They are excellent when used for focusing or collimation applications, beam expansion, as well as optical testing systems such as MTF test benches.



Improved surface roughness and surface figure



TECHSPEC Low Scatter Off-Axis Parabolic Mirrors are precisely designed to direct and focus incident collimated light at 90°, simplifying system integration. Designed using a proprietary process that decreases scatter in the visible region, each TECHSPEC Low Scatter Off-Axis Parabolic Mirror undergoes a visual inspection with a HeNe laser to ensure low scatter. The aluminum substrate mirrors are characterized with improved surface roughness and surface figure when compared to standard off-axis parabolic mirrors.



Available in 25.4 and 50.8 mm diameter models



TECHSPEC Low Scatter Off-Axis Parabolic Mirrors are available in five models, with diameters of either 25.4 mm or 50.8 mm and effective focal length of 25.4 mm, 50.8 mm or 101.6 mm. TECHSPEC Low Scatter Off-Axis Parabolic Mirrors are in-stock and available for immediate delivery for fast turnaround and excellent value.



TECHSPEC Low Scatter Off-Axis Parabolic Mirrors will be on display at Edmund Optics Booth #1614 during CLEO (Conference on Lasers and Electro-Optics) from June 11- 13, 2013 in San Jose, CA.



About EO:



Edmund Optics® (EO) is a leading producer of optics, imaging, and photonics technology for R&D, electronics, semiconductor, pharmaceutical, biomedical, and military markets around the globe. EO is the world's largest supplier of off-the-shelf optical components. Customers can purchase items by contacting EO at 1-800-363-1992, via the catalog, or via the website at www.edmundoptics.com



Company Contact:

Kirsten Bjork-Jones

Director Global Marketing Communications

Edmund Optics®, Inc.

101 East Gloucester Pike

Barrington, NJ 08007 U.S.A.

Phone: 1-800-363-1992

Fax: 1-856-573-6295

email: kbjork-jones@edmundoptics.com



European Contact:

Agnes Huebscher

Director European Markeeting

Edmund Optics

Zur Giesserei 8

76227 Karlshuhe, Germany

Phone: +49 (0)721 627370

Fax: +49 (0)721 6273750

email: AHuebscher@edmundoptics.de

More from Cleaning Products & Equipment