Oerlikon's Drive Systems Segment to Showcase Technological Innovation at ConExpo-Con/Agg with a Wide Range of Off-highway Drive Solutions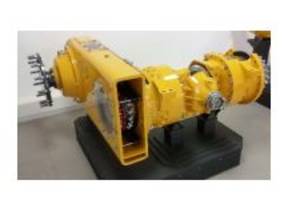 Lafayette/Turin, 6th March 2017 – Oerlikon Drive Systems segment, with its two brands Oerlikon Fairfield and Oerlikon Graziano, will display its latest high-tech solutions for all types of construction and mobile machinery applications at the ConExpo-Con/Agg exhibition at the Las Vegas Convention Center from March 7-11, in South Hall 3 Space # S81015. Oerlikon Drive Systems, located in the Americas, Europe and Asia has an extensive background in product development and manufacturing with over 95 years of expertise in all mobility markets.
Oerlikon Drive Systems is a leading global provider of complete drivetrain solutions used in a wide range of machinery and equipment for construction, mining, agriculture, energy and transportation. Thanks to the company's worldwide expansion, today Oerlikon Drive Systems is a "global drive systems provider" and a preferred partner for the design and development, testing and manufacturing of drive solutions.
ConExpo-Con/Agg/IFPE is the international gathering place every three years for the construction industries, with a focus on construction, aggregates and ready mixed concrete. The event features exhibits of the latest technologies and innovations in equipment, products and services plus extensive industry-targeted education.
"This exhibition is a key opportunity to showcase a wide range of our gear and drive solutions, all of which are developed to satisfy the industry's demand for extended vehicle operating life, improved performance and smoother operation, and to enhance operator comfort" said Mr. Greg Moreland, Global Manager of Market & Product Research. "From aerial work platforms to graders, pavers, wheel loaders, cranes and compact track loaders, our customers will find there all our innovations in custom gearboxes, gear solutions, Shifting Solutions™ (synchronizers units and power-shift clutches) and our Torque Hub® range of planetary drives."
Our engineers will be present during the exhibition and will be available to answer any question regarding our latest technologies as well to identify the right solution for our customer's need to meet their most demanding requirements.
Come visit us at South Hall 3 / Booth #S-81015
About Oerlikon
Oerlikon (SIX: OERL) is a leading global technology Group, with a clear strategy to become a global powerhouse in surface solutions, advanced materials and materials processing. Backed by the ability to intelligently engineer and process surface solutions and advanced materials, the Group is committed to invest in value-bringing technologies that provide customers with lighter, more durable, more efficient and environmentally sustainable products. A Swiss company with over 100 years of tradition, Oerlikon has a global footprint of over 13 500 employees at more than 180 locations in 37 countries and sales of CHF 2.3 billion in 2016. The company invested CHF 94 million in R&D in 2016 and has over 1 000 specialists developing innovative and customer-oriented products and services.
About the Oerlikon Drive Systems segment
Oerlikon Drive Systems segment, a part of the Swiss-based Oerlikon Group (SIX: OERL), is a leading supplier of high-precision gear, drive and shifting solutions. Under the market-leading brands of Oerlikon Graziano and Oerlikon Fairfield, the Segment provides high-tech drive products and systems for a wide range of applications, from sports cars, hybrid and electric vehicles to machinery and equipment for the agriculture, construction, mobility (on-/off-highway, city buses), energy and mining sectors. Known for its excellent manufacturing, engineering and innovative expertise, the Segment has the know-how and capabilities to lead the full deployment of a development program from conceptual and simulation phases to mass production of complete mechatronic driveline systems as well as single gearing components. In 2016, the Segment generated sales of CHF 612 million with a team of 4800 employees, operating its own production facilities in China, India, EMEAR and the Americas and serving customers worldwide.
For further information, please contact:
Stella Roagna
Head of Global Communications & Marketing
Drive Systems Segment
T +39 335 8278 728
Greg Moreland
Global Manager,
Market & Product Research
Drive Systems Americas
T +1 765 404 5275
More from Controls & Controllers