OEM Piezo Driver integrates high voltage power supply.
Press Release Summary: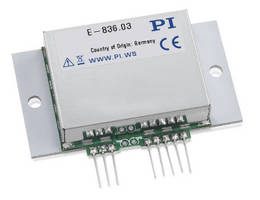 Designed for dynamic operation of low-voltage multilayer piezo actuators and piezo positioning systems, Model E-836.03 can source and sink peak currents to 100 mA and provides output voltage range of -30 to 130 V. Running on 24 V, module also integrates high-voltage supply for piezo driver as well as other required supply voltages. PCB-mountable unit is short-circuit-proof and equipped with full over current and over temperature protection.
---
Original Press Release:

Low Cost PCB Mountable Piezo Driver for OEMs Integrates High Voltage Power Supply



Auburn, MA – piezo motion technology market leader PI (Physik Instrumente) introduces a new low-cost piezo driver designed for OEM integration.



High Performance for Dynamic Motion Systems



Despite its compact size, the new E-836.03 piezo driver provides for the dynamic operation of low-voltage multilayer piezo actuators and piezo positioning systems.



The new module can source and sink peak currents to 100mA and provides an output voltage range of -30 to 130V.  Running on only 24 volts, the module also integrates the high-voltage supply for the piezo driver as well as the other required supply voltages.



As with all PI piezo drivers, amplifiers and controllers, the compact unit is short-circuit-proof and equipped with full over current and over temperature protection.



More Information on PI Motion Controllers and Positioning Systems:

http://www.physikinstrumente.com/en/products/prspecs.php?sortnr=601955



About PI

PI is a leading manufacturer of precision motion control equipment, piezo systems, piezo motors and actuators for photonics, bio-nanotechnology, medical engineering   & semiconductor applications. PI has been developing and manufacturing standard & custom precision products with piezoceramic and electromagnetic drives for 4 decades. The company has been ISO 9001 certified since 1994 and provides innovative, high-quality solutions for OEM and research. PI is present worldwide with eight subsidiaries, R&D / engineering on 3 continents and total staff of 750+



Contact:



USA / Canada: www.pi-usa.us

Email: info@pi-usa.us

East: (508) 832-3456

Midwest: (508) 832-3456

West: (949) 679-9191



Europe: www.pi.ws

Germany: +49 (721) 4846-0

Italy: +39 (02) 665 011 01

France: +33 (1) 481 039 30

UK: +44 (1582) 764 334



Asia: www.pi-japan.jp

Japan: +81 (6) 6304 5605

China: +86 (21) 687 900 08

More from Communication Systems & Equipment