Vision and Imaging Sensors / Detectors
OEM Controller fosters fiber optic signaling sensor integration.
Press Release Summary: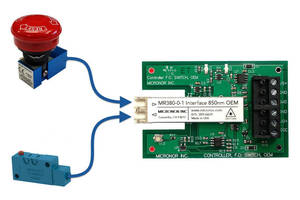 Designed for OEM industrial and medical systems, MR380-0 provides turnkey solution for integrating any Micronor MR38X series ZapFREE® Fiber Optic Signaling Sensors. Unit contains stable transmitter and sensitive optical receiver that operate over Duplex LC multimode fiber optic link. Compatible with OM1 (62.5/125 µm) or OM2/OM3 (50/125 µm) multimode fiber to distances up to 1.5 km, controller operates over 5–24 Vdc range and provides Digital Logic as well as Open-Collector Output.
---
Original Press Release:

Micronor Introduces OEM Controller for Fiber Optic Emergency Stop and Signaling Sensors



Designed for Integration into OEM Industrial and Medical Systems



Camarillo, CA – With its simplistic design and interfaces, the MR380-0 OEM Controller from Micronor provides a low cost, turn-key solution for OEM manufacturers and control system providers integrating any of the Micronor MR38X series ZapFREE® Fiber Optic Signaling Sensors into their product. The sensor range includes Emergency Stop, E-Actuator, U-Beam, Key Switch, Push Button, Foot Switch and Microswitch sensors.



The OEM Controller contains a stable transmitter and a sensitive optical receiver, which operate over a Duplex LC multimode fiber optic link.  The transmitter sends a constant light level via the transmit fiber which is interrupted when the fiber optic switch activates or the sensor beam is broken. The system is compatible with either OM1 (62.5µm/125µm) or OM2/OM3 (50µm/125µm) multimode fiber, to distances up to 1.5 km.  The Controller operates over a wide 5-24 VDC range and provides a Digital Logic as well as Open-Collector Output for activating external relays.



The MR380 ZapFREE® Signaling Sensor System outperform electromechanical and electronics-based switches and sensors, specifically where EMI immunity, high voltage isolation, inherent safety, MRI compatibility or operation over long distance is required. Applications include medical and MRI; transportation; oil, gas, and mines; petrochemical plants; high voltage transformer and switch gear; fire suppression systems; and process industries and instrumentation.



For ATEX applications and hazardous locations, the Signaling Sensors are classified simple mechanical devices and can be installed in any manner of explosive atmosphere – mines, gas and dust.  The Controller outputs inherently safe, optical radiation and is approved for EPL Mb/Gb/Gc/Db/Dc applications.



For Functional Safety applications, depending on sensor type, the controller defaults to the emergency state when: (1) the optical path is blocked, (2) in case of a broken fiber, (3) a fiber is disconnected, or (4) loss of power to the controller link.



In small quantities, the MR380-0 OEM Controller is $250 and MR38X Sensors can range $350-$495, with typical lead time of stock to 2 weeks. Discounts are available for OEM applications.  Special engineered versions are available for MRI applications, radiation and vacuum environments.



Product Links:



About Micronor:

Since 2003, Micronor Inc. has been a forerunner of innovative Fiber Optic Kinetic Sensors for both industrial and medical applications. Products include Fiber Optic Position Sensors, Rotary Encoders, Linear Encoders, Signaling and Temperature Sensors. These sensors are designed for applications where EMI immunity, high voltages isolation, inherent safety, MRI compatibility or long distance operation is required.  Micronor maintains regional sales, service, engineering, and manufacturing facilities in both California, USA and Switzerland.



CONTACT INFORMATION:

Dennis Horwitz

Vice President, Sales & Marketing

Micronor Inc.

900 Calle Plano

Suite K

Camarillo, CA  93012 USA

TEL: (805) 389-6600

FAX: (805) 389-6605

EMAIL: dennis@micronor.com

More from Electronic Components & Devices