octoBox® OBS-15 Test Antennas are used for 5 GHz band.
Press Release Summary: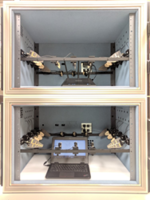 octoBox® OBS-15 High Gain Log-PeriodicTest Antennas are used for testing wireless technologies such as 802.11ax and LTE-Advanced. Units support operating frequencies from 700 MHz to 6 GHz. Product is suitable for cellular/LTE, CBRS and Wi-Fi bands and can be configured to STACK-BENCHTOP, STACK-16, and STACK-SNB.
---
Original Press Release:
octoScope Unveils High Order MIMO Testing Solution
Small form-factor 5 GHz antennas enable increased number of MIMO streams in the octoBox testbed
octoScope, the leader in accurate, repeatable and automated wireless personal testbeds, today announced the introduction of its new octoBox® OBS-15 test antennas.
The octoBox® OBS-15 high gain log-periodic antennas are optimized for use in the 5 GHz band. Their reduced form-factor allows for the testing of the latest generation of wireless technologies such as 802.11ax and LTE-Advanced, both of which support 8x8 MIMO. The solution also allows for the testing of beamforming when the number of receiving antennas is fewer than the number of transmitting antennas.
The latest wireless technologies such as 802.11p/n/ac/ax and cellular (LTE, LTE-Advanced, including LAA and MulteFire) use a variety of multiple-input multiple-output (MIMO) antenna techniques. As MIMO systems grow in complexity, testing becomes more challenging. Both LTE Advanced and 802.11ax incorporate eight-antenna technologies to get higher performance gains. The new, smaller 5 GHz antennas developed by octoScope are needed to create the high capacity MIMO testbeds required to test these advanced technologies.
The octoBox® personal testbed product line by octoScope, supports operating frequencies from 700 MHz to 6 GHz, allowing for testing in all the essential frequency bands, including cellular/LTE, CBRS and Wi-Fi bands. The testbeds range in size from desktop/benchtop models to refrigerator-sized configurations on wheels. Their compact size enables wireless test and development engineers to perform fast, comprehensive and repeatable testing in their offices rather than inside large isolation chambers or in test houses. When configured with the OBS-15 antennas, the testbeds offer ideal conditions for testing multi-stream MIMO throughput and beamforming.
The octoScope personal testbeds, STACK-BENCHTOP, STACK-16, and STACK-SNB, are configured with the octoBox high gain antennas. The STACK-16 testbed is primarily a throughput testbed optimized to achieve the highest possible MIMO-OTA throughput. To achieve maximum throughput and over-the-air stability for high order MIMO systems capable of up to 8 spatial streams, the STACK-16 testbed with 16 MIMO paths provides a rich, uncorrelated path MIMO environment.
The compact STACK-BENCHTOP and comprehensive STACK-SNB perform a thorough list of automated tests including MIMO-OTA throughput vs. range, rate adaptation, band steering, roaming, expert monitoring, interference avoidance and packet capture.
"The octoBox HG antennas are optimized for high-order MIMO testing in the 5 GHz bands, which are seeing increased activity with not only Wi-Fi 802.11n/ac/ax, but also with the cellular technologies such as LTE-U, LAA, and MulteFire that are targeting this spectrum," explains Leigh Chinitz, CTO of octoScope, "octoScope's customers have been buying our HG antennas for all environments, including for use in the octoBox itself, or in open air or in large chamber testing environments."
As the number of wireless devices developed for the 5 GHz bands continues to grow, and IoT becomes a reality, engineers need cost-effective, personal testbeds in which they can rapidly test those designs. The new smaller octoScope 5 GHz antennas gives them the option to construct very high capacity MIMO testbeds, including for mesh topologies to help ensure accurate and repeatable automatic wireless testing.
The octoBox Personal Testbed
The octoBox personal testbed is being used by wireless operators, device manufacturers and chipset vendors to test Wi-Fi, LTE, ZigBee, Bluetooth and other wireless technologies. The octoBox is an accurate and automated testbed for validating wireless devices and systems. With its complete isolation and consistent controllable test environment in labs around the world, the octoBox solution is highly-praised by its diverse users.
About octoScope
octoScope is the market leader in accurate and repeatable automated wireless personal testbeds. Our patented technology redefines the accuracy, stability, economics and value of over-the-air wireless testing. octoScope's product line includes robust solutions for isolation, interference generation and evaluation, client emulation, and essentially all of the elements required to evaluate the behavior and performance of a broad range of wireless devices and systems. octoScope's headquarters is in Littleton, Massachusetts.
More from Packaging Products & Equipment