Océ ProCut Digital Finishing Systems come with a Canon DSLR camera.
Press Release Summary: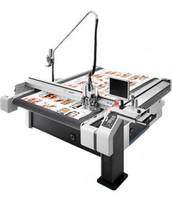 Océ ProCut Digital Finishing Systems feature Auto Pilot automation option which comes in two dynamic configurations. Units offer continuous processing of multiple jobs and automatic initiation of the job. Products come with an optional automatic router bit changer which is used for polishing and engraving. System is embedded with ProCut vision software and helps to finish one complex job or multiple jobs on different materials automatically.
---
Original Press Release:
Workflow Made Easy: Canon Solutions America Launches the Océ ProCut Auto Pilot System
New automation option increases efficiency and streamlines customers' finishing workflows
Canon Solutions America, Inc., a wholly owned subsidiary of Canon U.S.A., Inc., today announced enhancements to its Océ ProCut digital finishing systems with the new and intuitive Océ ProCut Auto Pilot automation option, now commercially available in two dynamic configurations. The versatile, next-generation options are poised to provide customers with outstanding workflow productivity.
With the Océ ProCut Auto Pilot system, Canon Solutions America introduces a new level of automation. A Canon DSLR camera placed above the table will recognize the unique fiducial mark on each printed piece and automatically call up the correct cutting data. This enhancement is designed to eliminate the need to manually scan a barcode and will help to provide users with quicker turnaround times. Once the job is recognized by Auto Pilot, the Océ ProCut Vision software automatically begins finishing using the tool settings pre-defined in the Vision software. To ensure this capability is included, users must make sure the router and/or tools are installed in the Universal Modules.
To go even further with automation, with the optional Océ ProCut Automatic Router Bit Changer (ARC), the router can use up to eight different bits for routing, polishing, engraving, etc. Additionally, it can automatically finish one complex job or multiple jobs on different materials without the need of operator intervention.
"Workflow efficiency and automation are key drivers in overall productivity," said Sal Sheikh, vice president, Marketing, Large Format Solutions, Canon Solutions America. "With the latest advancement in our large format finishing options, the Océ ProCut Auto Pilot system not only creates workflow efficiencies, it offers more flexible and versatile workflow options to help keep jobs on time and productivity intact."
With reliability, versatility, and flexibility all built into one system, the benefits add up quickly. Some of the most pivotal benefits include:
Continuous processing of multiple jobs
Automatic initiation of job processing
Limited operator intervention
More flexible workflow
Faster production with very limited manual handling during processing
Reduced dependence on a skilled operator(s)
As Canon continues to bring together its technology and various organizations as part of the One Canon approach, the Océ ProCut Auto Pilot exemplifies the possibilities of this vision. The new automation system incorporates advanced Canon EOS imaging technology and recognizes Canon proprietary registration marks on the printed media in order to automatically identify jobs placed within a predefined area of the cutter table. Combining Canon camera and Océ ProCut technology provides users an efficient and uniquely productive solution for finishing and automation needs.
Requirements and Availability
The Auto Pilot system requires Océ ProCut Vision v.4.7 or newer in order to work. All new Vision orders from July 11, 2017 will include this latest version of software. Customers currently on v.4.x can upgrade to v.4.7 free of charge. The upgrade is available on Canon's Océ Display Graphics Systems website at www.dgs.oce.com.
Availability, prices and specifications are subject to change without notice.
About Canon Solutions America, Inc.
Canon Solutions America provides industry leading enterprise, production, and large format printing solutions, supported by exceptional professional service offerings. With the technology offerings of the Canon and Océ brands, Canon Solutions America helps companies of all sizes improve sustainability, increase efficiency, and control costs through high volume, continuous feed, digital and traditional printing, and document management solutions. A wholly owned subsidiary of Canon U.S.A., Inc., Canon Solutions America is headquartered in Melville, N.Y. and has sales and service locations across the U.S. For more information on Canon Solutions America, please visit csa.canon.com.
More from Material Handling & Storage