Obtained IECEx Certificate for Explosion Proof Limit Switch (SLP5130-AL/RL/LRL)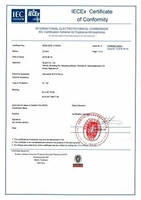 QLight obtained ATEX (European ATmospheres EXplosibles) and IECEx(IEC System for Certification to Standards Relating to Equipment for Use) which is the most representative explosion proof certificate.



IECEx that obtained this time is an international cross-certificate system for explosion-proof electric equipment published by IEC. It retains safety level of the explosion-proof electric devices and avoids the duplication of the certificates in between member countries. Ultimately it removes technological barriers by means of "unified standard, examination, certificate and logo"



QLight Co. Ltd. always strives to be able to expedite your continuous growth based upon the product quality recognized by world's leading explosion proof certification.



The item obtains this certificate are SLP5130 series and Ex d llC T6 Gb level which has been produced.



The certificate is shown on 'Technology data > Certificate'.



More from Agricultural & Farming Products