Obstacle Detection/Video System helps prevent backing accidents.
Press Release Summary: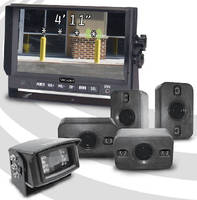 VisionStat(TM) Plus provides driver with audible and visual information when obstacle is detected behind vehicle. Integration of SenseStat(TM) Obstacle Detection Sensor System connected directly with wired VisionStat Camera System, without any additional cabling, allows for visual confirmation via CCD camera along with distance and proximity from any of 4 sensor zones. Commercial-grade system lets driver see exact distance, accurate to 1 in., to closest object on monitor.
---
Original Press Release:

Mobile Awareness Announces VisionStat Plus Integrated Obstacle Detection Sensor & Video System



[CLEVELAND, OH - October 19, 2009] Mobile Awareness, LLC, a provider of leading-edge transportation safety products, today announced VisionStat(TM) Plus, an extremely affordable and complete commercial-grade system to prevent backing accidents. VisionStat Plus offers an integrated version of their SenseStat(TM) Obstacle Detection Sensor System that connects directly with their wired VisionStat Camera System with no additional cabling required.

VisionStat Plus is an advanced safety solution which combines two technologies to aid in the prevention of costly backing accidents. Utilizing a leading-edge obstacle detection sensor system (SenseStat), which is displayed on a backing camera video monitor (VisionStat), the driver is provided both audible and visual information when an obstacle is detected in the rear of the vehicle. The combined features allow for visual confirmation via a CCD camera along with the distance and proximity from any of four (4) sensor zones - the driver sees the exact distance (accurate to 1-inch), to the closest object on the monitor.

SenseStat is the leading-edge obstacle detection system that monitors four 4 zones simultaneously indicating the area closest to an object or person. VisionStat is a rugged easily installable video system available with either a 5.6" or the 7" Color LCD Monitor which is configurable with up to four (4) infrared night vision CCD cameras. VisionStat Plus is the extremely cost-effective result of integrating the SenseStat(TM) Obstacle Detection Sensor System directly into the VisionStat Camera System with no additional wiring required.

"Mobile Awareness continues to see an increasing demand among fleets for more flexible, effective and affordable safety systems" says Brandon Stotsenburg, Vice President of Sales & Marketing at Mobile Awareness. "By developing VisionStat Plus we continue our commitment to provide easy-to-install, cost-effective and technically advanced solutions for enhanced vehicle safety."

In the past, customers would choose between two of the most common blind spot monitoring methods, a backing camera or an obstacle detection system. While each has important advantages, the cost of purchasing and installing two different systems was often prohibitive. By offering an integrated version, the combined safety effects of a VisionStat camera (visual) "Plus" the object detection of a SenseStat sensor (audible alarm) are realized at cost (starting at $675.00) often below other rugged camera systems alone. VisionStat Plus is ideal for all types of single unit vehicle fleets in urban areas where backing safety is often stressed.

Stotsenburg concludes, "There are many advantages to utilizing active backing sensor technology with a reversing camera system. One of the most critical being when the driver is not viewing the video monitor, the audio from the sensor system can bring attention to an unforeseen object or individual behind their vehicle. Ultimately, this added driver awareness will reduce costs and backing accidents."

About Mobile Awareness
Cleveland, Ohio based Mobile Awareness, LLC designs and markets leading-edge, affordable transportation safety products. The company provides integrated accident prevention solutions for commercial transportation professionals with its VisionStat(TM) Wired & Wireless Vehicle Camera Systems, TireStat(TM) Tire Pressure Monitoring Systems (TPMS) and SenseStat(TM) Wired & Wireless Obstacle Detection Sensor Systems. For more information, please contact Mobile Awareness, Toll Free: 866-653-5036 or visit www.MobileAwareness.com

Mobile Awareness...Reducing the Total Cost of Safety(TM)

More from Electronic Components & Devices