Obstacle Detection System prevents trailer backing accidents.
Press Release Summary: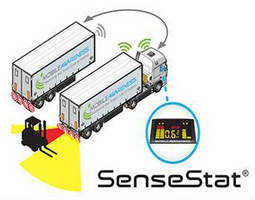 Made for drop and hook situations, SenseStat Wireless® Obstacle Detection Sensor System helps eliminate vehicle backing accidents on trailers pulled by different types of tractors. System automatically pairs switched trailer to monitor in tractor and provides backing safety information to drivers via audible alarm and visual display. When outfitted with system, vehicle becomes capable of providing driver with distance measurements accurate to within 1 in. of closest object to trailer bumper.
---
Original Press Release:

Easy-Swap Obstacle Detection Sensor System for Tractor-Trailers Now Available



CLEVELAND, OH — Mobile Awareness, LLC, a provider of leading-edge transportation safety products today announced their enhanced version of SenseStat Wireless® Obstacle Detection Sensor System.



Mobile Awareness has made it easy for fleet managers to help eliminate vehicle backing accidents on trailers that are frequently pulled by different tractors. Made for "drop and hook" situations, this wireless obstacle detection sensor system automatically pairs the switched trailer to the monitor in the tractor. Any weather, any time, drivers will have important backing safety information available via both an audible alarm and an intuitive visual display. The result for fleets is an improved backing safety record regardless of which truck and trailer is paired.



One SenseStat customer has the wireless system deployed on its entire fleet of 800 tractors and 1,400 trailers. They quickly realized how SenseStat can complement their safety programs, while ensuring that last-minute obstacles and inattentive spotters can remain safe. When outfitted with SenseStat Wireless, every vehicle becomes capable of providing the driver accurate distance measurements (to within an inch or millimeter) of the closest object to the trailer's bumper.



"It's a win-win for drivers and fleet managers," said Nico Cottone, vice president of business development for Mobile Awareness. "Drivers are more efficient when backing up and fleet managers are saving money in fewer repair bills."



SenseStat Wireless, with push-button sync, retails for less than $400 and installs in about an hour, which makes it an affordable and implementable safety solution, especially when considering the staggering cost of backing accidents.  The SenseStat system can also be used on the top corners of trailers, providing a warning of overhangs, overpasses and tree limbs.



About Mobile Awareness

Cleveland, Ohio based Mobile Awareness, LLC designs and markets affordable, leading-edge transportation safety products.  The company provides integrated accident prevention solutions for commercial transportation professionals with its VisionStat® vehicle video systems, TireStat® tire pressure monitoring systems (TPMS) and SenseStat® obstacle detection sensor systems. For more information, contact Mobile Awareness at 866-653-5036 or visit www.MobileAwareness.com



Mobile Awareness…Reducing the Total Cost of Safety®



Brian S. Diehl - Marketing Director

Mobile Awareness, LLC | Reducing the Total Cost of Safety®

31200 Solon Road | Suite 12 | Solon, OH 44139-3583

P 440.248.5523 | M 330.283.9550 

F 440.248.3919 | TF 866.653.5036

bdiehl@mobileawareness.com 

www.MobileAwareness.com

More from Mechanical Components and Assemblies