Obstacle Detection Sensor is suited for commercial vehicles.
Press Release Summary: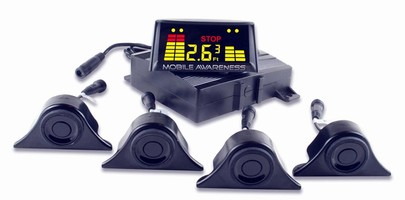 Including MA-ODSS-4M17TT and MA-ODSS-4M17BT, SenseStat(TM) Wired Obstacle Detection Sensor System works in all weather conditions to provide location of any obstacle within 4 individual areas behind vehicle, accurate to within 1 in. Activated automatically when reverse gear is engaged, driver is alerted to objects behind their vehicle with both audible and visual indicator. It can also adjust furthest end location of vehicle due to overhanging objects such as trailer hitch or extended bumpers.
---
Original Press Release:

Mobile Awareness Adds Wired Solutions to SenseStat(TM) Obstacle Detection Sensor System for Commercial Vehicles



[CLEVELAND, OH - June 23, 2008] Mobile Awareness, LLC announces the release of a new SenseStat(TM) Wired Obstacle Detection Sensor System geared toward Commercial Trucks with Trailers, Utility Vehicles and Buses.

Commercial vehicle owners now have a choice of wired or wireless solutions for an effective means to help prevent costly backing accidents. Activated automatically when reverse gear is engaged, the driver is alerted to objects behind their vehicle with both an audible (active) and visual indicator (LED display). The waterproof sensors work in all weather conditions and provide the location of an obstacle (Zone Discrimination) within four (4) individual areas behind the vehicle, accurate to within one inch.

Based on a design optimized for long vehicles such as commercial trucks pulling trailers, the Mobile Awareness SenseStat(TM) System MA-ODSS-4M17TT (Truck & Trailer) or MA-ODSS-4M17BT (Box Truck) has features not readily found on other backing systems. "Mobile Awareness wanted to offer our commercial customers a cost-effective backing system choice, while maintaining a simple, low cost installation," remarked Brandon Stotsenburg, Director of Sales & Marketing at Mobile Awareness. "There are some applications where a wired installation is preferred such as to avoid wireless signal interference or when there is no available power source on the trailer. We have worked to eliminate those limitations by offering our customers alternate solutions."

Developed using a leading-edge sensor technology, the system is very economical to install and maintain. The 4 each waterproof sensors and ECU (Electronic Control Unit) mount easily on the rear of the truck or trailer. The dash mounted Warning Display Unit (WDU) connects to the ECU via a single waterproof cable that installs under the vehicle. There is only one 2-wire connection required to complete the installation.

Other unique SenseStat(TM) features include the ability to adjust the furthest end location of the vehicle due to overhanging objects such as a trailer hitch or extended bumpers (Stop-line Adjustment). Additionally, the monitor displays all zones simultaneously in real-time, while indicating the specific area closest to an object.

Stotsenburg concludes, "There are many advantages to utilizing an active backing sensor system that complement other safety devices such as our VisionStat(TM) reversing cameras (passive monitoring). At times when the driver is not viewing the video monitor, the audio from the SenseStat(TM) sensor system can bring attention to an unforeseen object or individual behind their vehicle."

About Mobile Awareness

Cleveland, Ohio based Mobile Awareness, LLC(TM) designs and markets leading-edge, affordable transportation safety products. The company provides integrated accident prevention solutions for commercial transportation professionals with its VisionStat(TM) Wired & Wireless Vehicle Camera Systems, TireStat(TM) Tire Pressure Monitoring Systems (TPMS) and SenseStat(TM) Wired & Wireless Obstacle Detection Sensor Systems. For more information, please contact Mobile Awareness, Toll Free: 866-653-5036 or visit www.MobileAwareness.com

Mobile Awareness...Reducing the Total Cost of Safety(TM)

Contact:
Joan Cochran, VP Operations
Phone: 866-653-5036
pr@mobileawareness.com

More from Construction Equipment and Supplies