Nylon Fuel Tanks collapse for storage.
Press Release Summary: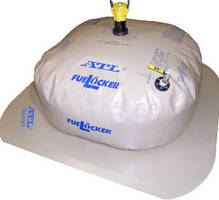 Made of rubberized ballistic nylon, FueLockers(TM) serve as auxiliary and direct supply tanks for generators, engine-pump sets, extended range vehicles, and ferry-flight operations. Bladders accommodate gasoline, E10 bio-fuel, diesel, kerosene, bio-diesel, 100LL, bio-butanol, and all jet fuels. Available in 5 sizes from 100-500 gal, FueLockers are fitted with 2 in. cam-lok quick-fill for direct-pump or nozzle filling, and ½ or 1 in. outlets for engine fuel-line connection and aux-to-main transfer.
---
Original Press Release:

ATL "FueLocker"(TM) Collapsible Aux-Fuel Tanks



For decades, ATL's Petro-Flex® Pillow Bladders have been industry's mainstay for safely carrying 25 to 250 gallons of auxiliary fuel in planes, boats, trailers and off-road equipment. Now, with a footprint only half that of a "pillow-bladder", the new collapsible "FueLocker"(TM) becomes even more ideal for ships, yachts, trucks, defense vehicles , first-responders and refuel-depots. ATL FueLockers(TM) also serve as direct supply tanks for gasoline and diesel generators, engine-pump sets, extended range vehicles and ferry-flight operations.

"FueLockers"(TM) are super tough, made of rubberized ballistic nylon, and easy to set up or collapse for storage. These engineered fuel bladders will accommodate gasoline, E10 bio-fuel, diesel, kerosene, bio-diesel, 100LL, bio-butanol and all jet fuels including JP4, JP8 and JP10. They are fitted with a 2" (50mm) cam-lok quick-fill, for either direct-pump or nozzle filling. Outlets are 1" (25mm) or 1/2" (12mm) for engine fuel-line connection and "aux-to-main" transfer. Each FueLocker(TM) is fitted with a pressure relief vent valve for additional safety, and a 2" (50mm) bulk discharge fitting assembly is optional. ATL's FueLocker(TM) tanks are available in 5 convenient sizes from 100 to 500 gallons (400 to 2000 liters). So relax, and keep the power on longer, with ATL FueLockers(TM)! For further information contact ATL's Craig Mitchell or David Dack at 800-526-5330 or 201-825-1400 Email: atl@atlinc.com

More from Agricultural & Farming Products