Applicator / Finishing / Cleaning Brushes
Nylon Abrasive Brushes offer extended life, accelerated cutting.
Press Release Summary: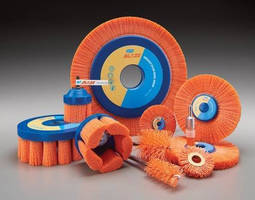 Blaze nylon abrasive brushes, which deliver controlled surface refinement and uniform finishing (internal and external), feature self-sharpening ceramic alumina abrasive that offers optimized point endurance and micro-fracturing properties. Heat- and stress-resistant, ceramic grain-infused filaments contribute to extended brush life and irregularly shaped surfaces conformability. Sizes range from ¼–14 in. dia (depending on brush type), and several configurations are available.
---
Original Press Release:
NEW Norton Blaze Nylon Abrasive Brushes Provide 20% Longer Life and up to 30% Faster Cutting
Blaze brushes deliver consistent performance for controlled surface refinement and uniform finishing.

Worcester, MA U.S.A. – Norton | Saint-Gobain, the world's leading manufacturer of performance-engineered abrasives, has recently launched an addition to their "best in class" Blaze line with a line of nylon abrasive brushes that are precision-engineered with the highest quality ceramic grains for easy integration into today's automated machinery, CNC machining centers, transfer lines, robotic cells and other highly-specialized machinery, as well as portable power hand tools. Norton Blaze brushes are ideal for both internal and external part finishing for applications such as aerospace, automotive, medical and other demanding industries. (www.nortonindustrial.com)

Norton Blaze nylon abrasive brushes feature a self-sharpening ceramic alumina abrasive with extreme point endurance and improved micro-fracturing properties that provides up to a 30% faster cut. As the grain is exposed, the cutting points are increased and cut equally when pressure is applied to the side or the tip of the filament. Even distribution of the grain throughout the filament ensures consistent cutting and finishing throughout the life of the brush, making Norton Blaze brushes ideal for automated applications.

The brushes are designed with strong, ceramic grain-infused filaments that are heat and stress-resistant, offering up to 20% longer brush life and superior conformability to irregularly shaped surfaces. The filaments easily bend at various angles to fit contours for a more uniform surface for optimal performance on a variety of complex part shapes, without requiring ultra-precise programming and fixturing typically required with other deburring and finishing tools.

"Our line of Blaze nylon brushes eliminates the need for costly and inconsistent hand deburring and provides longer life and faster cutting," said Mr. Mike Radaelli, Product Manager, at Norton | Saint-Gobain. "Our brushes are engineered specifically for jobs requiring controllable surface refinement and uniform finishing, for consistent performance over time."

The Norton Blaze brush line is available in a number of configurations with over 200 SKU's in sizes ranging from ¼" – 14" brush diameter depending on brush type, including:

Radial Wheel Brushes are ideal for final finishing and sharpening precision parts during production; edge radiusing and cleaning, finishing and polishing surfaces including ferrous and nonferrous materials, and powdered and soft metals such as aluminum and brass.

Narrow Face Wheel Brushes feature a small profile which makes them ideal for cleaning, polishing and deburring recessed areas such as small openings, slots and machined grooves.

Disc Brushes work best for deburring; edge radiusing; removing rust, scale and other surface contaminants, scrubbing and cleaning, surface prep, blending tool marks, applying decorative finishes/textures, and finishing and polishing.

Stem-Mounted End Brushes include a stem that allows for mounting in a collet or tool holder for CNC machine or robotic use. They may be used with portable or power tools for deburring slots, small recessed areas and internal part features.

Twisted Brushes feature a solid steel shank for use in CNC machine tools, drill presses and manual machine tools for deburring, cleaning, finishing and polishing inside any small diameter holes.

To learn more about Norton's line of Blaze Nylon Abrasive Brushes in addition to two case study tests, visit http://www.nortonindustrial.com/uploadedFiles/SGindnortonabrasives/Documents/Brochure-NylonBrushes-Blaze-8571.pdf or contact Mike Radaelli at (518) 266-2382 or Michael.aradaelli@saintgobain.com.

About Saint-Gobain Abrasives
Backed by its experience and its capacity to continuously innovate, Saint-Gobain, the world leader in the habitat and construction market, designs, manufactures and distributes high-performance and building materials providing innovative solutions to the challenges of growth, energy efficiency and environmental protection. With 2014 sales of $54 billion, Saint-Gobain operates in 65 countries and has more than 170,000 employees.

For the fourth year in a row, the Company has been ranked by Thomson Reuters as one of the Top 100 Global Innovators.

In the United States and Canada, Saint-Gobain has more than 150 locations and approximately 15,000 employees, with sales of approximately $6.2 billion in 2014.

Saint-Gobain is the world leader in abrasives and the only international manufacturer to offer a full complement of abrasives products to customers worldwide. Saint-Gobain's Abrasives business employs nearly 11,000 people at 64 manufacturing facilities in 27 countries. In the United States and Canada, Saint-Gobain's Abrasives business has more than 2,200 employees at 10 manufacturing sites.

For more than 30 years, Saint-Gobain Abrasives has supported the United States Luge Association by providing engineering expertise to improve the performance and speed of luge athletes and by donating its Norton® brand of abrasive products. Since 2009, Saint-Gobain has been the primary sponsor of the USA Luge team.

For more information about Saint-Gobain, visit www.saint-gobain.com and the twitter account @saintgobain or download the "Saint-Gobain Shareholder" application for tablet and smartphone.
More from Mechanical Power Transmission