NVMe Protocol Analyzer/Exerciser test and monitor SSD devices.
Press Release Summary: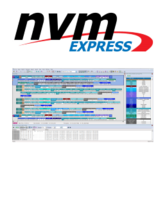 SMBus protocol-enabled Summit™ T34 Protocol Analyzer and Summit Z3-16 Exerciser/Test Platform are used to test and monitor SSD devices and systems using NVM Express® (NVMe) protocol. Summit T34 protocol analyzer supports SMBus protocol decoding integrated into NVMe and PCIe protocol traffic trace display. Also, protocol exerciser/test platform generates SMBus protocol traffic to aid testing of NVMe-MI protocol in addition to standard PCIe, NVMe, and SATA Express traffic generation.
---
Original Press Release:
Teledyne LeCroy Announces New NVM Express® Protocol Analyzer and Exerciser for NVM Express Management Interface
Monitor, Analyze and Generate SMBus, NVMe and PCIe® Protocol Traffic

SANTA CLARA, Calif. -- PCI-SIG DevCon -- Teledyne LeCroy, the worldwide leader in protocol test solutions, today announced the availability of their new SMBus protocol-enabled Summit™ T34 Protocol Analyzer and Summit Z3-16 Exerciser/Test Platform targeted at testing and monitoring SSD devices and systems using the NVM Express (NVMe) protocol.  NVMe is associated with high performance storage technology and is now enabling network monitoring in storage systems using PCIe and SMBus signaling which are important components of the new NVM Express Management Interface (NVMe-MI) protocol.  The Summit T34 protocol analyzer has been enhanced to support SMBus protocol decoding that is integrated into the current NVMe and PCIe protocol traffic trace display.  The protocol exerciser/test platform also has been enhanced to generate SMBus protocol traffic which is useful for testing the NVMe-MI protocol in addition to the standard PCIe, NVMe and SATA Express traffic generation already in use by the storage industry.

"The NVMe Management Interface is an important part of delivering a robust solid-state drive solution for Datacenter environments," said Amber Huffman, President of NVM Express, Inc.  "Protocol tools like the Summit T34 Analyzer and Summit Z3-16 Exerciser from Teledyne LeCroy will help the NVMe ecosystem grow by providing engineers with the tools they need to successfully complete challenging development schedules."

A Datacenter is made up of a multitude of servers each with hundreds of SSDs.  Failures happen from time-to-time causing potential data loss.  To avoid this problem, BMC (Baseboard Management Controller) systems monitor storage devices and determine if there is a drop in performance or change in operating conditions.  Pre-emptive action allows problem units to be identified and replaced maintaining high quality data access.  The NVMe-MI protocol enables NVMe solid-state drives to be managed by the BMC over either SMBus (out-of-band) or PCI Express (in-band). The Summit T34 and Summit Z3-16 are an important part of system development to verify that the solution is working according to the NVMe-MI specification.

"Network monitoring is becoming more important as big data is consolidated to compact systems and devices," said John Wiedemeier, Product Marketing Manager in the Protocol Solutions Group, Teledyne LeCroy.  "The new Summit T34 Protocol Analyzer and Z3-16 Exerciser tools will allow developers to monitor and test NVMe-MI applications for various device form factors to ensure high quality systems."

Traffic between the Host (Root Complex) and the DUT (Device Under Test) will be captured by a new class of interposers that have been developed to support both PCIe and SMBus channels.  These new interposers include the PCIe External Cable 3.0 Interposer, standard interposers with the CEM connector and other specialized form factors coming soon.  The sideband signaling PERST#, WAKE#, and similar functionality can be monitored by the Summit T34 through the interposer, where protocol issues and performance metrics can be analyzed and debugged.  RefCLK# signals external to the cable are available on the PCIe External Cable 3.0 interposer for use with the protocol analyzer.

In 2010, Teledyne LeCroy was the first company to introduce a PCI Express protocol analyzer supporting NVM Express (NVMe).  Since that time Teledyne LeCroy has added decoding for SATA Express (AHCI/PCIe) and specific probing for U.2 (SFF-8639) and M.2 connector-based storage system and devices.  Integrating these PCIe SSD technologies into a single protocol analyzer, and adding targeted storage probing solutions, provides developers versatile tools that can show essential details regarding proper data transmission and bus performance.  These tools have been critical to the success of PCIe SSD interoperability testing that has occurred over the last few years.

Availability
The Summit T34 Protocol Analyzer, Summit Z3-16 Exerciser and Test Platform, and the new interposers are available to order now.  For additional information, contact Teledyne LeCroy at 1-800-909-2711 or visit Teledyne LeCroy's web site at teledynelecroy.com.

About Teledyne LeCroy
Teledyne LeCroy is a leading manufacturer of advanced oscilloscopes, protocol analyzers, and other test instruments that verify performance, validate compliance, and debug complex electronic systems quickly and thoroughly. Since its founding in 1964, the Company has focused on incorporating powerful tools into innovative products that enhance "Time-to-Insight".  Faster time to insight enables users to rapidly find and fix defects in complex electronic systems, dramatically improving time-to-market for a wide variety of applications and end markets. Teledyne LeCroy is based in Chestnut Ridge, N.Y.  For more information, visit Teledyne LeCroy's website at teledynelecroy.com.

About PCI-SIG®
PCI-SIG is the consortium that owns and manages PCI specifications as open industry standards. The organization defines industry standard I/O (input/output) specifications consistent with the needs of its members.  Currently, PCI-SIG is comprised of nearly 800 industry-leading member companies.  To learn more about PCI-SIG, and for a list of the Board of Directors, visit www.pcisig.com.

About NVM Express, Inc.
NVM Express, Inc. was formed to define a new storage interface protocol, NVM Express, to enable the full performance potential provided by non-volatile memory storage technology, such as PCI Express solid state drives, in a standards-based approach to enable broad ecosystem adoption. NVM Express, Inc. is a non-profit organization and includes more than 110 member companies: www.nvmexpress.org.

©2016 by Teledyne LeCroy   All rights reserved. Specifications are subject to change without notice.

PCI-SIG, PCI Express and PCIe are registered trademarks of PCI-SIG.
NVM Express is a registered trademark of NVM Express, Inc.

Media Contact:
Peter Fletcher, TechniPubs
(408) 373-5601 

LeCroy Contact:
John Wiedemeier, Product Marketing Manager 
(408) 486-7211

Customer Contact:
Teledyne LeCroy PSG Customer Care Center
(800) 553-2769

Website:
teledynelecroy.com
More from Fluid & Gas Flow Equipment