Nurse Call System uses wireless mesh networking.
Press Release Summary: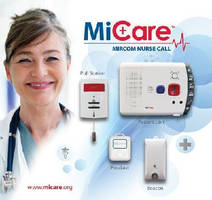 Coupling self-forming, self healing mesh networking with ultrasonic signaling, MiCare helps users accurately identify and respond to emergency events, ensuring that residents and patients receive required care and security. Customizable features include: resident check-in, photo, and medication profiling; extensive reporting; global and targeted programming; shift management; common area and campus expansion capabilities; endpoint supervision; and real-time emergency GUI with event dashboard.
---
Original Press Release:

Mircom Introduces MiCare - Wireless Nurse Call in the Cloud



TORONTO,  -- Mircom is proud to announce the US launch of MiCare, an advanced wireless Nurse Call solution. MiCare will be featured at ISC West April 15-17, 2015 in Las Vegas, NV.



MiCare nurse call couples self-forming, self-healing mesh networking technology with ultrasonic signaling to accurately identify and respond to emergency events, ensuring that residents and patients receive the required level of care and security. MiCare provides the ability to customize and tailor features to the needs of specific facilities and users, making it an ideal solution for retirement homes, assisted living facilities, long-term care facilities, hospitals and residential homes.



Customizable features include: resident check-in, photo and medication profiling; extensive reporting; enhanced rule engines; global and targeted programming; shift management; common area and campus expansion capabilities; endpoint supervision; and a real-time emergency GUI with event dashboard, among numerous other options.



"The flexibility and feature set of MiCare make it a premium nurse call solution, ensuring your residents and patients are protected while optimizing the operational efficiencies of your facility," said Mike Mahoney, Product Manager, Mircom.



Triple redundancy makes MiCare is a robust, survivable solution. MiCare's self-aware, self-healing wireless mesh network allows for re-routing and self-forming capabilities as well as the ability to automatically recognize new units in the network.



"Mircom's MiCare is very reliable," said Mahoney. "Wireless mesh networking allows all devices on the network to communicate with each other directly, eliminating any single point of failure. If one unit should fail or lose power, other units within the proximity of the event will take over the emergency notification task."



Moreover, MiCare is very simple to install; using the integrated Mesh Network, devices are able to communicate by "hopping" from one unit to another until reaching the central station. Installers are consistently impressed by the fact that a MiCare facility can be set up in mere hours.



To learn more about MiCare, please visit: www.micare.org



About Mircom

Founded in 1991, Mircom is a global designer, manufacturer and distributor of intelligent building and life safety solutions. Reaching customers in over 100 countries worldwide, Mircom's portfolio includes: fire detection & alarm, communications & security, mass notification, nurse call, and building automation & smart technologies. For more information on Mircom, please contact 888.660.4655 or visit www.mircom.com



Press Contact:

Marsha Druker

Marketing Communications Specialist

MIRCOM GROUP OF COMPANIES

25 Interchange Way

Vaughan, Ontario, Canada, L4K 5W3

Email

Tel: 905.660.4655 Ext. 3370

Related