Numeric Keypad features 2 x 16 character LCD display.
Press Release Summary: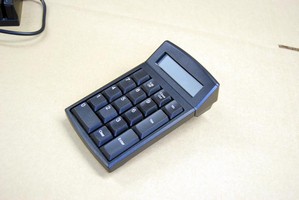 Offering bi-directional communication across RS232 serial connection, RoHS-compliant Model 720 S includes onboard memory, enabling it to provide standalone or offline capabilities. Keypad has 17 keys, which can be customized with special colors or legends. Small enough to be mounted in vehicles, Model 720 S offers compact HID for vehicle tracking and management devices. It is also suitable for security applications, such as identification and entering PIN numbers.
---
Original Press Release:
Electrone 720 S - serial, 17 key, RoHS, Numeric Keypad with Display
Electrone has developed the 720 S, RoHS compatible, numeric keypad with LCD 2x16 character display. This clever unit offers bi-directional communication across a reliable RS232 serial connection. On board memory enhances the ability of the unit to offer some stand alone or off line capability. Key strokes can be sent real time or batched. The 17 keys can be customized with special colours or legends. The standard cable offers a power input. The serial communication means that is can communicate with any serial device not only a PC. APPLICATIONS
It is ideal for a host of special applications, in retail as a compact on counter mini terminal:
For pre paid telephone of gift card sales
Closed universe account systems The unit is small enough to be mounted in vehicles:
To offer a compact HID for vehicle tracking and management devices
Also can facilitate bi directional communication on data frequencies The unit is also practical for use in security applications:
The unit can be used for identification and to enter PIN numbers
The bi-directional feature allows security questions to also be asked The memory is expandable so the unit can be used as a stand alone device:
The memory can be set up to offer a series of questions to operate off line or stand alone
The memory can be expanded to act as a stand alone customer service device, for example to identify suitable parts CUSTOMIZATION
A host of custom opportunities exist including:
Custom firmware
Custom key signals
Custom key tops and legends
Custom cables
Adaptation for partial or total stand alone operation
More from Fasteners & Hardware