Numatics Introduces New Vacuum Control Products with Longest Life & Highest Reliability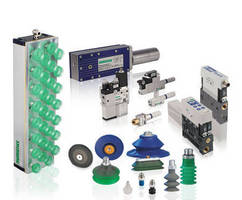 NOVI, MICHIGAN, USA, Thursday - ASCO Numatics, the world's leading manufacturer of comprehensive fluid automation, flow control, and pneumatics solutions, introduced today its new line of improved Numatics vacuum products for applications in the automotive, packaging, plastics, and glass industries. The line includes highly reliable vacuum generators, suction cups, mounting elements, switches, specialty grippers, and related accessories that create cost-effective solutions with the longest life and fastest production cycles

"Numatics now offers the industry's widest range of vacuum components that allow customers to select cost-effective solutions for their specific material handling applications," said Robert W. Kemple, Jr., executive vice president, sales and marketing - Americas, ASCO Numatics. "With our deep application expertise, we size components to the customers' vacuum requirements and provide a total solution - where vacuum generators and suction cups are optimized for the longest life, greatest reliability, and highest throughput."

The Numatics vacuum control product line (http://www.numatics.com/vacuum) consists of the following components:

o Vacuum generators that include single-stage ejectors for non-porous materials such as metal, glass or plastic; multi-stage ejectors to handle porous materials such as wood or cardboard; and compact ejectors that integrate a sensor, valve, filter, I-O link, and compressed air intelligence into one compact assembly.

o Electric vacuum pumps to handle applications where there is not enough compressed air available or when the application requires its own vacuum source.

o Suction cups, including flat and bellows-style, for a wide range of applications and materials - porous, non-porous, corrugated, fabrics, and food-related products.

For automotive applications such as press room/stamping and body assembly, Numatics' automotive style suction cups are optimized to handle sheet metal with oily surfaces at maximum cycle rates without slippage.

For packaging lines, Numatics solutions generate high production rates through the use of a specially formulated cup material. These cups last four to eight times longer than conventional components, providing a highly cost-effective vacuum gripping system.

"All of our customer's solutions are tested to ensure they get the best vacuum cup fit for their application," said Kemple.

Numatics has a wide selection of the new vacuum control products available for rapid, 2-day shipment. For more information, contact Numatics at 1-888-NUMATICS (1-888-686-2842), www.numatics.com/vacuum, or http://www.numatics.com/express.

Follow ASCO Numatics on Twitter at twitter.com/asconumatics. Find ASCO Numatics on Facebook at http://www.facebook.com/asconumatics.

About ASCO Numatics

ASCO Numatics, an Emerson company, offers comprehensive fluid automation solutions, including flow control and pneumatics products, for a wide range of industry-focused applications. The ASCO Numatics product line in North America consists of more than 50,000 valves, an extensive selection of air preparation equipment, and a full line of actuation products. ASCO products include solenoid pilot valves, angle body piston valves, linear indicators, redundant control systems, and pressure sensors. The Numatics line covers valve manifolds, cylinders, grippers, filters, regulators, and lubricators. For more information about ASCO Numatics products, visit www.asconumatics.com

About Emerson

Emerson (NYSE: EMR), based in St. Louis, Missouri (USA), is a global leader in bringing technology and engineering together to provide innovative solutions for customers in industrial, commercial, and consumer markets around the world. The company is comprised of five business segments: Process Management, Industrial Automation, Network Power, Climate Technologies, and Commercial & Residential Solutions. Sales in fiscal 2011 were $24.2 billion. For more information, visit www.Emerson.com.

More from Fluid & Gas Flow Equipment