Temperature Sensors / Detectors / Transducers
NTC Thermistor Dies offer gold and silver metallizations.
Press Release Summary: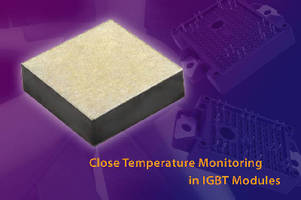 Featuring gold metallization, Model NTCC300E4 supports gold wire bonding and conductive adhesive gluing, while Model NTCC200E4 with silver metallization supports aluminum wire bonding and is compatible with reflow soldering and nano-silver paste sintering. RoHS-compliant thermistors offer resistance at +25°C from 4.7 kΩ to 20 kΩ, with tolerance down to ±1%. Packaged in conductive PS blister tape, devices provide high stability from -55 to +175°C, with drift of <3% after 1,000 hr.
---
Original Press Release:

Vishay Intertechnology's NTC Thermistor Dies Offer Gold and Silver Metallizations, Same Mounting Options as IGBTs



High-Stability Devices Support Wire Bonding, Soldering, and Nano-Silver Paste Sintering



MALVERN, Pa. — Vishay Intertechnology, Inc. (NYSE: VSH) today introduced two new leadless NTC thermistor dies — contacted on the top and bottom — that provide designers with the same mounting options as IGBT semiconductors. Featuring gold metallization, the Vishay BCcomponents NTCC300E4 supports gold wire bonding and conductive adhesive gluing, while the NTCC200E4 with silver metallization supports aluminum wire bonding and is compatible with reflow soldering and nano-silver paste sintering.



The devices released today are optimized for temperature sensing, control, and compensation in automotive and industrial applications. End products will include IGBT modules, power inverters, motor drives, and hybrid integrated circuits for electric vehicles and hybrid electric vehicles, solar panels, and wind turbines.



Packaged in conductive PS blister tape and resistant to leaching, the NTCC300E4 and NTCC200E4 offer high stability over a wide temperature range of -55 °C to +175 °C, with a drift of < 3 % after 1,000 hours. The devices are highly resistant to thermal shocks, with a drift of < 3 % after 1,000 cycles in accordance with AEC-Q200 automotive standards.



The RoHS-compliant thermistors offer resistance at +25 °C (R25) from 4.7 kΩ to 20 kΩ, with tolerance down to ± 1 %, and beta (B25/85) from 3435 K to 3865 K, with tolerance down to ± 1 %. The devices feature maximum power dissipation of 50 mW and response times of 5 s.



Samples of the NTCC300E4 and NTCC200E4 are available now. Production quantities will be available in June 2015, with lead times of six weeks for large orders. Pricing for U.S. delivery starts at $0.14 per piece.



Vishay Intertechnology, Inc., a Fortune 1000 Company listed on the NYSE (VSH), is one of the world's largest manufacturers of discrete semiconductors (diodes, MOSFETs, and infrared optoelectronics) and passive electronic components (resistors, inductors, and capacitors). These components are used in virtually all types of electronic devices and equipment, in the industrial, computing, automotive, consumer, telecommunications, military, aerospace, power supplies, and medical markets. Vishay's product innovations, successful acquisition strategy, and "one-stop shop" service have made it a global industry leader. Vishay can be found on the Internet at www.vishay.com.



http://twitter.com/vishayindust

http://www.facebook.com/VishayIntertechnology