Floor, Lift Truck and Conveyor Scales
NSF-Approved Checkweigher targets food industry.
Press Release Summary: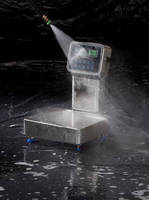 Constructed of food-grade stainless steel, Quick Check ZQ375 meets sanitation and hygiene standards found in food processing industry. Smooth surface finish and curved corners facilitate cleaning, minimize growth of microorganisms, and limit food trap areas, while IP69K-rated enclosure with Gore-Tex® Vent technology allows moisture buildup to escape. In addition to highly visible, color-coded display, checkweigher features Ethernet, USB, and wireless connectivity options.
---
Original Press Release:

IP69K-Rated, NSF-Approved Avery Weigh-Tronix ZQ375 Checkweigher, Designed for Food Industry



Quick Check ZQ375

Fairmont, MN - Avery Weigh-Tronix introduces the Quick Check ZQ375, a unique checkweigher designed with food-grade, stainless steel construction to satisfy stringent sanitary regulations found in the food processing industry. With a robust, hygienic housing, highly visible, color-coded display and multi-connectivity operation, the ZQ375 offers an accurate, easy-to-use checkweighing solution.

Featuring NSF 3-A certification, the ZQ375 is specifically designed to meet the sanitation and hygiene standards in food processing and manufacturing applications. With a smooth, polished surface finish, curved corners and easy-to-remove cover, the ZQ375 allows for fast and effective cleaning-minimizing the growth of microorganisms on the scale and limiting food trap areas where bacteria can thrive. In addition to a hygienic design, the ZQ375 employs a durable IP69K-rated enclosure with Gore-Tex® Vent technology to allow moisture buildup-a result of temperature change from hot and cold washdown cycles-to escape and not be trapped inside the enclosure. This membrane is an industrial food grade technology that ensures the checkweigher is completely resistant to dust and water ingress in high pressure and heavy washdown applications.

The ZQ375 checkweigher is available in a range of sizes with two base types: low capacity torsion base and high capacity diamond base. The fully NSF-approved torsion base automatically transfers shock loads and overloads-up to 500 percent-away from the load cell back to the base frame to ensure accurate scale performance. Alternatively, the IP69K-rated diamond base delivers 150 percent overload protection and offers a reliable, single load cell design with no moving parts.

Offering increased flexibility and simple operation, the ZQ375 provides versatile connectivity options, including Ethernet, USB and wireless. The low-power draw, highly-visible IBN display offers ease of viewing in all lighting conditions, including direct sunlight and low-lit areas. With colored, multi-segmented under/overweight graphs, the large, seven-segment display provides fast visual notification of weight data while an audible alarm reinforces the visual display.

Designed for efficiency and ease of use, the ZQ375 can be setup in multiple ways:

· Quick Check Setup

· Entered Target Limits

· Positive and Negative Checkweighing

· Statistical Data Packages

· Target Weigh PLU Storage

· Custom Statistical Data Transfer

· Standard Deviation

· X/R Data Collection

· Custom Statistical Data

Avery Weigh-Tronix is a pioneer in the design and manufacture of innovative precision electronic weighing devices and control systems. For further information, contact: Avery Weigh-Tronix, 1000 Armstrong Drive, Fairmont, MN 56031. Phone: 800-368-2039. Fax: 507-238-8224. Email: usinfo@awtxglobal.com. Web: www.wtxweb.com.

More from Software