Notifier Emergency Scene Assessment Device Wins Top Government Security Honor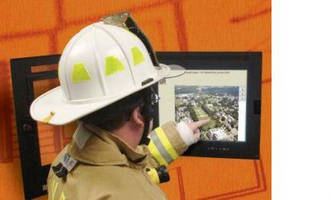 ONYX FirstVision® Interactive Display Delivers Real-Time Emergency Event Info

NORTHFORD, Conn - NOTIFIER by Honeywell (NYSE: HON) announces its ONYX FirstVision emergency scene assessment display has earned the Platinum Fire/Life Safety Award in the "Govies" Government Security product competition. Govies winners were announced at the 2012 GovSec Government Security Conference & Expo in Washington D.C.

The ONYX FirstVision is an emergency scene assessment tool used by first responders to determine the origin and migration of a fire, location of emergency alerts, potential hazards or areas of refuge within the affected areas of a facility. Interactive floor-by-floor building layouts depicting activated fire alarm system components, water supplies, fire barriers, emergency shut-off valves and other site-specific details enable emergency officials to make fast, effective response plans.

"If the Govies judges were looking for a uniquely exceptional product that can make a real difference in saving lives, then FirstVision is it," says NOTIFIER VP of Sales Frank Tomberlin. "Years of research working with first responders have gone into making this device that provides firefighters and security people a visual overview of an emergency in real-time, with data specific to that site that can be critical to saving people and property."

Ideal for large universities, industrial facilities and healthcare complexes, ONYX FirstVision displays are typically placed in a security office, local dispatch center or other centralized location for easy access.

The ability to view areas in and around a scene can be critical to making intelligent decisions in the midst of an emergency. To make this possible, ONYX FirstVision can display real-time video feeds from any number of CCTV cameras through Honeywell's Rapid Eye DVR system. By simply tapping a camera icon on ONYX FirstVision's interactive display, users can view areas covered by those cameras to assess fire conditions, occupants, entry ways, exits and more.

The ONYX FirstVision system was developed by NOTIFIER utilizing one-on-one feedback from firefighters, security personnel, EMTs (Emergency Medical Technician), facility owners and managers, and NOTIFIER Distributors.

More detailed information on the latest ONYX FirstVision technology from NOTIFIER is available online at www.notifier.com.

Notifier, part of the Honeywell (NYSE: HON) Fire Systems group, is one of the largest manufacturer of engineered fire alarm systems with more than 400 authorized distributors worldwide and regional support operations on every continent. Notifier's extensive fire alarm, life safety and mass notification offerings include standalone, networked and integrated solutions, plus graphic interface monitoring systems for facility managers and first responders. Visit www.notifier.com for more detailed information.

Honeywell International (www.honeywell.com) is a Fortune 100 diversified technology and manufacturing leader, serving customers worldwide with aerospace products and services; control technologies for buildings, homes and industry; automotive products; turbochargers; and specialty materials. Based in Morris Township, N.J., Honeywell's shares are traded on the New York, London, and Chicago Stock Exchanges. For more news and information on Honeywell, please visit www.honeywellnow.com.

More from Electronic Components & Devices