Notebook Computers suit small and medium businesses.
Press Release Summary: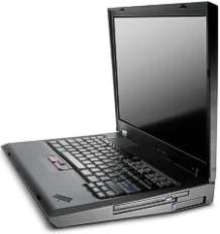 Think Express models of ThinkPad® G40 notebook are powered by 2.8 GHz Intel(TM) Pentium(TM) 4 processor with 512 KB on-board L2 cache or 2.4 GHz Intel Celeron® processor with 128 KB on-board L2 cache. Weighing 8.32-8.54 lb, they suit processor-intensive applications and include 30 or 40 GB HDD, DVD or CD-RW/DVD-ROM combination drive, diskette drive, and Windows(TM) XP Pro and selected applications. Products come with 14.1 or 15.0 in. TFT display with 1024 x 768 resolution.
---
Original Press Release:

New IBM Think Express Models of the ThinkPad G40 Notebook Include One-Year Depot Warranty


Overview

The new Think Express models of the ThinkPad® G40 notebook for small and medium businesses offer a powerful desktop computer alternative with the personality of a ThinkPad notebook. Starting at a weight of 3.78 kg (8.32 lb) for the 358.1-mm (14.1-in) models and 3.88 kg (8.54 lb) for the 381.0-mm (15.0-in) models with battery, these lightweight, easy-to-use notebooks are ideal for processor-intensive applications. Think Express models include a one-year depot warranty.

Feel the power

· Powerful Intel(TM) Pentium(TM) 4 processor at 2.8 GHz and 512 KB of on-board L2 cache or fast Intel Celeron® processor at 2.4 GHz and 128 KB of on-board L2 cache

· 30 or 40 GB HDD

· 24x-8x DVD or 24x-10x-24x-8x max CD-RW/DVD-ROM combination drive

· Diskette drive

· Microsoft(TM) Windows(TM) XP Professional Edition and selected applications installed

Count the benefits

· Sleek design; approximately 32.9 x 28.2 x 3.7 to 5.1 cm (12.9 x 11.1 x 1.5 to 2.0 in) slim

· 256 MB of 64-bit double data rate (DDR) memory, providing high-speed multitasking, expandable up to 1 GB

· ThinkPad EasyPivot base for smooth positioning of system for a comfortable viewing angle

· Individual volume up, down, and mute buttons

· TrackPoint® pointing device with Internet scroll bar (requires Internet access, not included), Press-to-Select, and magnifying functions to help you breeze through Web pages and spreadsheets

· ThinkPad ComfortSlant keyboard design for maximum comfort with extended typing

· Keyboard function keys for quick and easy shortcuts, including:

- Wireless connection management, when used with wireless option
- Easy ejection of attached options
- Full-screen magnification
- Enhanced power management with standby and hibernation

ENERGY STAR

All models of ThinkPad notebook systems are designed to meet the EPA ENERGY STAR requirements for using less than 15 watts of power in sleep mode when enabled by the Power Management software provided with the systems.

ImageUltra(TM) services

Selected ThinkPad notebooks are enabled for ImageUltra.

For more information, visit:

http://www.pc.ibm.com/us/accessories/services/imageultra.html

Availability date

January 20, 2004

At a glance

The new Think Express ThinkPad G40 notebook models for small and medium businesses feature a one-year depot warranty and:

· Powerful Intel Pentium 4 processor at 2.8 GHz and 512 KB of on-board L2 cache or fast Intel Celeron processor at 2.4 GHz and 128 KB of on-board L2 cache

· 30 or 40 GB HDD

· Access IBM button for easy access to ThinkVantage(TM) technologies and IBM service and support

· Integrated communications: 10/100 Ethernet and 56 K V.90 modem (V.92-designed)

· 358.1-mm (14.1-in) or 381.0-mm (15.0-in) TFT display with 1024 x 768 resolution

· Integrated Intel Extreme Graphics with dynamic video memory technology

· Integrated diskette drive

· 24x-8x DVD or 24x-10x-24x-8x max CD-RW/DVD-ROM combination drive

· Four USB 2.0 ports, PS/2® port, parallel, headphone, microphone, and RJ-45 and RJ-11 connectors

· One-year limited warranty

· Windows XP Professional and selected applications installed

More from Electronic Components & Devices