Notebook Computers are based on Intel 915 chipset.
Press Release Summary: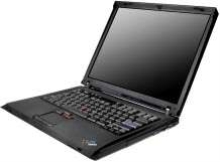 ThinkPad Express R52 Notebooks are available with 1.7 GHz Intel Pentium M processor 740 with 2 Mb L2 cache and 533 MHz FSB, or 1.3 GHz Intel Celeron M processor 350 with 1 Mb L2 cache and 400 MHz FSB. Units include Wi-Fi wireless LAN, IEEE 1394 port, support for PCI Express technology, 56 K V.90 modem, and integrated Gigabit Ethernet. They offer 256 or 512 Mb of PC2-400 memory expandable to 2 Gb, as well as 14.1 or 15.0 in. TFT display with 1,024 x 768 resolution.
---
Original Press Release:

Think Express Models of the IBM ThinkPad R52 Notebook Include a Three-year Limited Warranty


At a glance
New Think Express models of the ThinkPad R52 notebook include a three-year depot limited warranty plus:
Intel Pentium M processor 740 (1.7 GHz, 2 MB L2 cache, 533 MHz front-side bus (FSB)) or Intel Celeron M processor 350 (1.3 GHz, 1 MB L2 cache, 400 MHz FSB)
Rescue and Recovery
Wi-Fi wireless LAN
IEEE 1394 port
Ultrabay Enhanced modular drive bay
Support for PCI Express technology including the Express Card
Integrated Gigabit Ethernet
56 K V.90 modem (V.92-designed)
RJ-45 and RJ-11 connectors; two USB 2.0 ports; infrared port
60 GB HDD
Embedded Security Subsystem 2.0, Trusted Computing Group (TCG)-compliant (requires download of security software from IBM)
IBM Universal Manageability (UM) solutions
Support Center 800-IBM-SERV (426-7378)
Microsoft Windows XP Professional and selected applications installed

Overview
Think Express models of the ThinkPad® R52 notebook include fast Intel(TM) processors for exceptional computing power for all users.

Feel the power
Intel Centrino mobile technology on selected models:
Intel Pentium(TM) M processor family
Intel PRO/Wireless family
Intel 915 chipset

Models with Intel Celeron® processors and Intel 910GML chipset are also available.

Integrated Gigabit Ethernet
56 K V.90 modem (V.92-designed)
Integrated IEEE 1394

Wireless-enabled with Intel PRO/Wireless 2915ABG (Intel 11a/b/g)6 or 2200BG LAN (Wi-Fi-certified based on IEEE 802.11b/g) on selected models

UltraConnect(TM) antenna to help optimize frequency coverage and performance for improved wireless LAN connectivity around the world when used with compatible options

IBM Embedded Security Subsystem 2.0 (requires download of software from IBM)

Microsoft(TM) Windows(TM) XP Professional and selected applications installed

Standard 256 or 512 MB of PC2-4200 (533 MHz) memory expandable to a maximum of 2 GB7

Count the benefits
Intel Graphics Media Accelerator 900 integrated graphics for clear images

Rescue and Recovery(TM)

Sleek design: 34 to 37 mm (1.35 to 1.46 in) or 37 to 40 mm (1.46 to 1.58 in) slim

358.1-mm (14.1-in) TFT display with 1024 x 768 resolution or 381.0-mm (15.0-in) TFT with 1024 x 768 resolution

Easy-loading Ultrabay(TM) Enhanced modular drive bay

Support for optional ThinkPad Dock II, ThinkPad Mini-Dock, or ThinkPad Port Replicator II

CD-RW/DVD-ROM 24x-24x-24x-8x maximum combination9 Ultrabay Enhanced drive or 24x-10x CD-ROM

Access IBM button; ThinkLight® keyboard light; individual volume up, down, and mute buttons

UltraNav(TM) dual-pointing system, featuring TrackPoint® and customized touch pad for the ultimate in pointing flexibility

RJ-45 and RJ-11 connectors; standard ports including S-Video out

Excellent service
Worldwide IBM service and support features EasyServ on-site pickup and delivery.

Planned availability
April 2005

More from Architectural & Civil Engineering Products