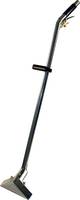 Everyone has heard how effective Kaivac's No-Touch Cleaning® system is when it comes to cleaning restrooms.
However, many don't know these systems can also be used - and used very effectively – to clean carpet, including heavily soiled industrial carpet.
Just add Kaivac's stainless steel carpet extractor wand to any No-Touch Cleaning system.
The wand includes dual-spray nozzles for deep extraction cleaning.
It's so powerful and effective, it has earned the Carpet and Rug Institute's Seal of Approval for soil and moisture removal.
For more information, visit www.kaivac.com, or call 513-887-4600.
About  Kaivac
Headquartered in Hamilton, Ohio, Kaivac, Inc., is the originator of the No-Touch Cleaning™ system and manufactures a full line of No-Touch cleaning products aimed at making cleaning processes safer for people and the environment while preserving quality and cost-efficiency. For more information on the company and its products, call 800-287-1136 or visit www.kaivac.com.
More from Software