Norton Latest QUANTUM3™ Combination Wheels Offer 50% Longer Life
Press Release Summary: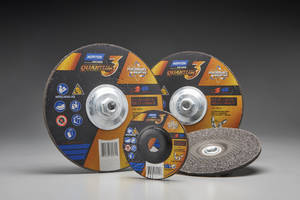 Norton QUANTUM3™ Combination Wheels are available in sizes ranging from 4-1/2 in. and 5 in. for hubbed and non-hubbed wheels. Wheels deliver productivity of more than 15% over traditional and are suitable for applications ranging from fabrication, oil rig building and repair, rail, container, and pipeline manufacturing. Unit's precision-shaped ceramic grain provide cutting action with reduced vibration.
---
Original Press Release:
Saint-Gobain Rolls Out Norton QUANTUM3™ Combination Wheels for Increased Productivity & Operator Comfort, While Reducing Cost.
WORCESTER, MA, USA (April 19, 2018) – Saint-Gobain Abrasives, the world's largest abrasives manufacturer, has introduced its new Norton QUANTUM3™ Combination Wheels addition to the recently introduced Norton QUANTUM3™ (NQ3) Line of Depressed Center Grinding Wheels. View a video, request a test and download a brochure at http://nortonsga.us/nq3.
In comparison tests, NQ3 Combo Wheels have several key benefits over competitive wheels. NQ3 Combo Wheels have 50% longer life which significantly reduces the need for wheel changes, resulting in decreased production downtime and less labor cost. Due to more efficient and faster cutting and grinding capabilities, the new combo wheels increase productivity by 15% over competitive wheels, so users can finish more pieces in less time.
"In addition to lasting longer and increasing productivity, users are reporting that NQ3 Combo Wheels are significantly easier-to-use and cut effortlessly compared to other wheels," said Saida Guerra, Norton |Saint-Gobain Abrasives, Associate Product Manager, North America. "NQ3 Combo wheels are ideal for a broad range of applications including general fabrication, oil rig building and repair, rail, container, and pipeline manufacturing."
The NQ3 Line of Grinding and Cutting Wheels feature a proprietary grain along with a tougher bond system containing a unique combination of fillers and bonding agents that allow for much better mix quality in manufacturing, NQ3 provides substantially faster grinding for increased metal removal and longer wheel life, with less operator fatigue to significantly increase grinding output. Test results conducted with NQ3 and competitive wheels revealed that NQ3 removed almost twice the amount of carbon steel at five minute intervals. A video of NQ3 performance and product brochure can be viewed at: http://nortonsga.us/nq3
The Norton Quantum3 grain tends to be more rounded than precision-shaped ceramic grain. This allows a more robust cutting action with less vibration, for much easier operator control. These wheels don't grab or dig when used in any direction. They simply glide through the workpiece while removing metal. The free-cutting control can boost the amperage on its own without additional pressure needed on the tool.
The Quantum3 line of wheels are offered in 10 Type 27 all-purpose grinding and cutting application SKU's. All products are currently in stock. Sizes range from 4-1/2" and 5" for hubbed and non-hubbed wheels. Norton Quantum3 grinding wheels are made in the USA.
ABOUT SAINT-GOBAIN ABRASIVES
Saint-Gobain Abrasives offers powerful, precise, user-friendly solutions, which enable customers to cut, shape and finish all materials in the most complex and challenging applications. By working closely with end-users and grinding expert partners, Saint-Gobain Abrasives designs and provides customized solutions to secure the best option for performance, cost and safety. Leveraging its global manufacturing presence, Saint-Gobain Abrasives serves its customers locally through its structured sales operations in over 27 countries, employing over 10,000 people.
Editorial Contact:
Michael McCue, McCue & Associates LLC
p. 978.733.1353
Norton Contact:
Saida Guerra, Norton | Saint-Gobain Abrasives
p. 956.983.5375
e. Saida.J.Guerra@saint-gobain.com 
Related Link: www.nortonabrasives.com
More from Optics & Photonics