Norton BlueFire(TM) Product Line Tier Upgraded to New Performance Zirconia Alumina Grain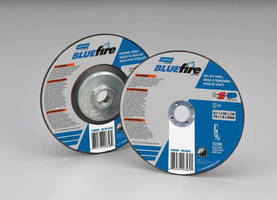 All Norton "Better" tier NorZon (zirconia alumina) products for portable grinding applications are being upgraded and unified under the Norton BlueFire brand.

WORCESTER, MA, USA - Saint-Gobain Abrasives - Norton, the world's largest abrasives manufacturer and leader in metal fabrication abrasive products for over 125 years, is implementing a performance upgrade across their "Better" tier of metal fabricating abrasives products for portable grinding applications. Products in the tier will now be sub-branded as Norton BlueFire and feature a zirconia alumina grain with properties that enable significantly improved performance (http://www.nortonindustrial.com/metalfab/muscle.aspx).

"Our new generation NorZon grain has been tested across many product lines and has consistently resulted in performance improvements of up to 30% compared to the previous NorZon product," said Mr. David Long, Director of Marketing and Strategy at Norton Abrasives.

Currently Norton "Better" fiber discs, flap discs, coated abrasive belts and portable wheels, cones and plugs have been upgraded to the new grain.

In addition, our current Charger(TM) depressed center and cut-off wheels and NorZon paper discs, non-woven wheels and quick-change discs for portable grinding applications will be upgraded to the new grain over the next several months. All upgraded products will be unified under the Norton BlueFire brand, designating their "Better" tier abrasive products for the entire metal fabricating offering.

Norton Abrasives invented zirconia alumina grain with the original NorZon and continues to upgrade their product line with the highest performance and quality zirconia alumina on the market. To learn more about the entire Norton BlueFire product line, visit (http://www.nortonindustrial.com/metalfab/muscle.aspx).

About Saint-Gobain

Norton is a brand of Saint-Gobain. With more than 1,000 subsidiaries in 64 countries, Saint-Gobain (http://www.saint-gobain.com/en) is the world's largest manufacturer and distributor of building materials, and a leader in the production of high performance materials, glass containers and abrasives. Founded in 1665 and headquartered in Paris, Saint-Gobain had worldwide sales of $58.6 billion in 2011 and employs approximately 195,000 people. In the United States and Canada, Saint-Gobain employs approximately 19,000 people, and had sales of $7.7 billion in 2010. The company has over 265 locations throughout North America.

More from Test & Measurement