Northwire Expands HD Broadcast Offering with LEMO SMPTE Fibre Optic Assembly Certification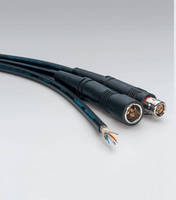 Benefit from end-to-end interconnectivity:  LEMO connectors, NWI cables, assemblies repair



OSCEOLA, WI.  – Northwire, Inc., (NWI), a leading custom cable and assembly manufacturer and subsidiary of The LEMO Group, announced it is officially certified by LEMO to build and repair SMPTE hybrid fibre optic cable assemblies.  With more than 30 years as the leader in high performance fibre optic connectors, LEMO's 3K.93C series is the industry standard for precision and reliability. 



Fully compatible with LEMO Push-Pull Connectors – including the hybrid electrical-fiber optic 3K series – Northwire's SMPTE 311 and ARIB versions are also compliant to RoHS2, REACH, ANSI, UL 758 AWM and more.  With superior resistance to crush, impact, abrasion, cut and VW-1 flame testing, the LEMO and Northwire combination ensures the highest quality and performance for rugged outdoor broadcast applications.



"In addition to celebrating our one year anniversary within The LEMO Group, Northwire has the pleasure of expanding our interconnectivity suite of products and services with LEMO to offer fully-certified SMPTE and ARIB end-to-end solutions," explains Mike Schauls, VP of Operations and Engineering.  "Around the world, our LEMO colleagues in the United Kingdom, Germany, Benelux, Japan, China, Singapore and the United States, are equipped with fibre termination facilities and we are pleased to complement their efforts and expand Northwire's HD broadcast offering to our valued customers," says Schauls.



Leveraging more than four decades of technical expertise, test and development, LEMO FOUR (Fibre Optic Unit of Research) established the quality and performance benchmarks for HD interconnectivity.  Rigorously tested and proven to meet or exceed the standards of excellence proven by LEMO FOUR, Northwire is officially certified to manufacture and repair SMPTE 311 fibre optic cable assemblies. 



With 4K and 8K on LEMO's technology roadmap, Northwire Project Managers, in collaboration with Research and Development, are focused on expanding SMPTE and ARIB product lines with Halogen Free Flame Retardant (HFFR), Low Smoke Zero Halogen (LSZH), Low Smoke Halogen Free (LSHF), Riser, Plenum rated and low temperature interconnectivity solutions and beyond.



Learn how LEMO and Northwire operate behind the scenes of the world's most televised technically-advanced HDTV programming. For vertically-integrated interconnectivity solutions and custom innovations, connect with the Customer Care TEAM at 800-468-1516, CableInfo_Northwire@lemo.com or via live chat.



About LEMO

LEMO is an acknowledged leader in the design and manufacture of precision custom connection and cable solutions. LEMO's high quality Push-Pull Connectors are found in a variety of challenging application environments including medical, industrial control, test and measurement, broadcast, and telecommunications.



LEMO has been designing custom connectors for over six decades. Offering more than 100,000 combinations of products that continue to grow through tailored, specific designs, LEMO and its affiliated sister companies REDEL, NORTHWIRE and COELVER currently serve more than 100,000 customers in over 80 countries around the world. In 2014, LEMO Group acquired Northwire, Inc.



About Northwire

Cable manufacturer Northwire, Inc., celebrating over 43 years of innovation, has corporate headquarters and manufacturing in Osceola, Wisconsin and engineering and manufacturing in Santa Teresa, New Mexico. The cable engineering company is the premier partner for the design, manufacture and contract services of custom technical products including custom technical wire and cable, retractable cable, cable assemblies, connectors, harnesses, injection molding, over-molding and contract engineering and OEM (Original Equipment Manufacturer) for diverse applications in broadcast, life sciences, energy, MIL-Spec defense, industrial, machine vision, architectural lighting, underwater and beyond.



In addition to ISO 13485:2003, ISO 9001:2008, SAE AS9100C:2009 certifications and qualification to ISO 17025:2005, Northwire is a member of NDIA (National Defense Industrial Association), NCMA (National Contract Management Association), RIA (Robotics Industries Association), AIA (Automated Imaging Association), FieldComm (fka Foundation Fieldbus), ODVA (Open DeviceNet Vendors Associations) and WAI (Wire Association International), among others.



For more information, visit www.northwire.com.



More from Construction Equipment and Supplies