Northfield Model DPH-500 Diaphragm Chuck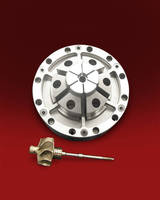 Island Park, NY – Northfield Precision Instrument Corporation, a leader in the design and manufacture of precision workholding chucks, specializes in developing custom solutions for difficult problems.  In this particular case, Northfield designed a special version of their model DPH-500 Diaphragm Chuck (.000010" TIR) with custom top tooling attached.



The center of this chuck has a deep bore that swallows and guides the tip of the part onto a spring-loaded center to support the part's tip while the part's underside rests on an axial locator (spider).  Once clamped, the ODʻs of the turbo fins are ground to an exact tolerance.



Northfield Precision Instrument designs and manufactures the world's most accurate air chucks for any lathe, boring machine, grinder or VMC.  Models include through-hole, high-speed and quick-change.  Chucks are available in SAE or metric, in sizes from 3" (76mm) to 18" (457mm). Accuracies of 0.001" to 0.00001" (0.254m) are guaranteed. Custom workholding chucks and jaws are available and FREE engineering assistance is offered.



For more information, please contact:

Northfield Precision Instrument Corp.

Call Toll Free 1-800-810-2482

Fax 516-431-1928 

Email: info@northfield.com.

More from Communication Systems & Equipment