Nordson SEALANT EQUIPMENT Introduces a Comprehensive New Range of Products that Drive Customer Productivity and Quality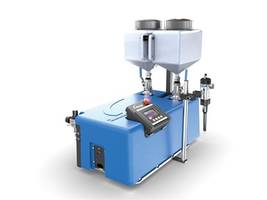 Pro-Meter® V2K – a compact, cost-effective and precision 2 component meter that's big on reliability and massive on precision. Featuring positive rod displacement technology, important when accuracy is vital and performance is essential.
Pro-Meter® H2K, A2K and D2K meter range for 2 component materials. Powered by our positive rod displacement metering technology, delivering precision as standard, the range features versatile drive options to suit customer application needs.
The all new design Rhino® Bulk Unloader, for the efficient dispensing of high-viscosity, ambient temperature sealants and adhesives, enables customers to increase production throughput and reduce material waste.
Valve Series XYZ Tabletop Robot, a simple automated dispensing system that brings repeatability and precision to desktop applications.
PLYMOUTH, MI, June 21, 2017 – Nordson Corporation (NASDAQ-NDSN), a leading supplier of precision technologies for ambient temperature material dispensing, announces the addition of an extensive lineup of new meter mix and dispense solutions through its' Nordson SEALANT EQUIPMENT division. These new offerings broaden the solution portfolio of Nordson SEALANT EQUIPMENT and continue to exceed the manufacturing and assembly demands of customers.
"We are known for our extensive portfolio of precision 1 and 2 component dispense valves and metering systems. Our newest products complement our existing valve line-up and expand our metering capabilities, providing our customers with superior performance by design" said Justin Hall, Business Unit Director for Nordson SEALANT EQUIPMENT.
Specifically, the expanded product offering delivers an improved range of functionality in material supply, automation and precision dispensing, for a variety of materials and applications.
The Pro-Meter® V2K is a precision and cost effective benchtop 2 component meter with ratios from 1:1 to 20:1. Positive rod displacement technology proportions materials to the exact volumetric ratio specified by manufacturers that demand the highest standards of accuracy, time and time again, and is ideal for filled and abrasive materials.
The Pro-Meter® 2K Series shot meter range, for the precision application of two-component materials. This is ideal when "bead on the part" appearance and consistent command of bead profiles and mix ratio are crucial to product quality and function. Available in air over oil (H2K), servo (A2K) or dual servo (D2K) drive configurations.
The Rhino® Bulk Unloader dispenses high-viscosity, ambient-temperature adhesives and sealants for a variety of manufacturing applications. The robust mechanical components and simple control logic combine to ensure longevity and simplified maintainability.
The Valve Series XYZ Tabletop Robot brings automated dispensing, repeatability and precision to a variety of applications.
"At Nordson, quality and service for the customer are key values. With these expanded product choices, we're continuing to deliver on this promise," said Tim Aigner, North American Sales Manager for Nordson SEALANT EQUIPMENT.
About Nordson SEALANT EQUIPMENT
Headquartered in Michigan, Nordson SEALANT EQUIPMENT is a worldwide leader in the design, engineering and manufacturing of meter, mix and dispense equipment and valves that apply ambient temperature 1-part and 2-part sealants, lubricants and adhesive materials. A division of Nordson Corporation, the company is known for offering the largest selection of dispense valves and metering technology for applications such as bonding, casting, coating, dispensing, doming, encapsulating, filling, gasketing, laminating, lubricating, molding, potting, and sealing. In addition to our Michigan, USA facility, Nordson Sealant Equipment also maintains Technology Centers throughout the globe that provide extensive application testing capacity for customers. Visit Nordson Sealant Equipment on the web at http://www.nordson.com/en/divisions/sealant-equipment.
Nordson Corporation engineers, manufactures and markets differentiated products and systems used for the precision dispensing and processing of adhesives, coatings, polymers and plastics, sealants, biomaterials and other materials and for fluid management, test and inspection, UV curing and plasma surface treatment, all supported by application expertise and direct global sales and service. Nordson serves a wide variety of consumer non-durable, durable and technology end markets including packaging, nonwovens, electronics, medical, appliances, energy, transportation, construction, and general product assembly and finishing. Founded in 1954 and headquartered in Westlake, Ohio, the company has operations and support offices in more than 30 countries. Visit Nordson Corporation on the web at www.nordson.com.
More from Electrical Equipment & Systems