Nordson MARCH Wins 2017 New Product Introduction Award for its ModVIA Plasma System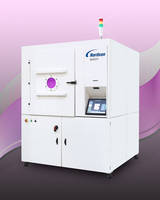 System doubles capacity for production demands
Concord, California, USA - 7 March 2017 - Nordson MARCH, a Nordson company (NASDAQ: NDSN), a global leader in plasma processing technology, has won the 2017 New Product Introduction (NPI) Award in the Surface Treatment Equipment category for its ModVIA™ Plasma Treatment System. The Award, sponsored by Printed Circuit Design and Fab magazine, was presented at a ceremony during IPC APEX 2017, held in San Diego, CA, on February 14, 2017.
"Nordson March is excited to once again be honored with this award," said Dave Selestak, Nordson MARCH business development manager. "The ModVIA meets the needs of our rapidly expanding and ever-changing marketplace. Its expandable design allows manufacturers the flexibility to grow machine capacity in parallel with production capacity growth requirements. The self-contained compact design and advanced plasma treatment technology deliver superior process uniformity and processing capability to PCB manufacturers."
Nordson MARCH's ModVIA Plasma System is a fully integrated, flexible system that doubles its capacity from 4 to 8 cells (8-16 panels) to easily accommodate manufacturing production growth and to increase capacity for production demands. The compact design and small footprint save valuable floor space while delivering time-tested results and proven technology to treat printed circuit boards for desmear, etchback, and to provide surface activation. This innovative, cost effective plasma system fits the needs of small- to medium-sized businesses or R&D institutions that process low-volume, high-mix products.
The NPI award, sponsored by Circuits Assembly and Printed Circuit Design and Fab, part of UP Media Group, recognizes creativity and innovation, compatibility with existing technology, cost-effectiveness, expected reliability, flexibility, performance, and user-friendliness.
About Nordson MARCH
Nordson MARCH is the global leader in plasma processing technology for the semiconductor, printed circuit board (PCB), microelectronics, and life science & medical device manufacturing industries. Nordson MARCH has offices and laboratories worldwide, including California, Europe, Singapore, China, Japan, Korea and Taiwan. With over 25 years of continuous innovation, Nordson MARCH designs and manufactures a complete line of award-winning and patented plasma treatment systems. An expert staff of scientists and engineers is available to assist in the development of plasma processes that improve product reliability and increase production yields. Visit Nordson MARCH at www.nordsonmarch.com.
About Nordson Corporation
Nordson Corporation delivers precision technology solutions that help customers succeed worldwide. Precision dispensing of adhesives, coatings, sealants, biomaterials, and other fluids, plastic extrusion and injection molding, electronics testing and inspecting, and surface preparation are supported by applications expertise and direct global support. Nordson serves consumer non-durable, durable and high-technology markets, specializing in packaging, nonwovens, electronics, medical, energy, transportation, construction, and product assembly. Founded in 1954, headquartered in Westlake, Ohio, USA, Nordson has operations and support offices in 30+ countries. Connect with Nordson at www.nordson.com and on social media.
For more information contact:
In USA:
Roberta Foster-Smith
Nordson MARCH (International Headquarters)
2470-A Bates Avenue
Concord, California 94520 U.S.A.
Tel.: +1.925.827.1240
Email: roberta.foster-smith@nordsonmarch.com
Website: www.nordsonmarch.com
More from Cleaning Products & Equipment