Nordson DAGE Xi3400 Automated X-ray Inspection System to Make European Debut at SMT/Hybrid/Packaging 2015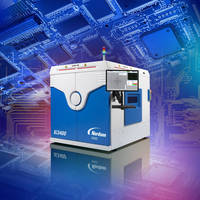 Aylesbury, Buckinghamshire, UK – Nordson DAGE, a division of Nordson Corporation (NASDAQ: NDSN), will exhibit its market-leading portfolio of Test and Inspection equipment in Booth No. 7A-131 at SMT/Hybrid/Packaging, scheduled to take place May 5-7, 2015 at the Messe in Nuremberg, Germany.



The highlight of the exhibition will be the Xi3400 Automated X-ray Inspection System (AXI), which will be making its European debut at the show. This new Nordson DAGE AXI system offers complete inspection of solder joints and other critical hidden features found in electronic assemblies, PCBs and packaged semiconductors. Ideal for in-line or off-line operation, the Xi3400's innovative algorithms enable fast and reliable automated inspection and real-time monitoring of critical process information.



Using the Nordson DAGE patented Digitial Tomosynthesis Technology the Xi3400 acquires multiple images in different slice heights in one inspection cycle. The images can discriminate between components on the top and bottom slices of double sided boards for unimpeded automated inspection.



The second generation Nordson DAGE 4000Plus bondtester will showcase camera assist automation. Built around a unique multi-function cartridge, the camera assist automation system is ideally suited for applications such as pull and shear testing of wafer interconnections, lead frames, hybrid microcircuits or automotive electronic packages. Easy programming using fiducial camera assist and vector stage nudge buttons provides precise X-Y alignment and facilitates rapid changeover for a variety of bond testing applications.



Also at the show will be the Nordson DAGE XD7600NT Diamond FP X-ray inspection system with QuickView CT that utilizes the latest technology to provide the ultimate choice for the highest quality in X-ray imaging on the market today.



For more information about Nordson DAGE, visit Booth 7A-131 at the Nuremberg show, or visit www.nordsondage.com.



About Nordson DAGE

Headquartered in Aylesbury, UK, Nordson DAGE is a unit of the Nordson Corporation and manufactures and supports a complete range of award winning digital X-ray inspection systems and bond test equipment for the printed circuit board assembly and semiconductor industries. For more information, visit www.nordsondage.com.



About Nordson Corporation

Nordson Corporation engineers, manufactures and markets differentiated products and systems used for the precision dispensing and processing of adhesives, coatings, polymers and plastics, sealants, biomaterials and other materials and for fluid management, test and inspection, UV curing and plasma surface treatment, all supported by application expertise and direct global sales and service. Nordson serves a wide variety of consumer non-durable, durable and technology end markets including packaging, nonwovens, electronics, medical, appliances, energy, transportation, construction, and general product assembly and finishing. Founded in 1954 and headquartered in Westlake, Ohio, the company has operations and support offices in more than 30 countries. Visit Nordson on the web at www.nordson.com.

More from Architectural & Civil Engineering Products