Nordson DAGE Will Show the New Quadra(TM) 7 X-ray Inspection System for the First Time at SEMICON West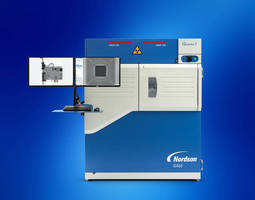 The future of  X-ray image resolution, reliability and performance



Aylesbury, Buckinghamshire, UK — Nordson DAGE, a division of Nordson Corporation (NASDAQ: NDSN), will exhibit in Booth #5844 at SEMICON West, scheduled to take place July 12-14, 2016 at the Moscone Center in San Francisco, CA. The leader in X-ray inspection for electronics, Nordson DAGE will show its 4th generation, ultra-high resolution, off-line MXI X-ray system – the Quadra™ 7 – for the first time in the Americas'.



Nordson DAGE's flagship system, The Quadra™ 7 with 0.1ìm sub-micron feature recognition comes equipped with two 4K UHD displays and their 8 million pixels to fully show the 50ìm pixel pitch and 6.7MP image size of the Aspire FP™ detector. 4K UHD offers up to 4 times the detail compared to standard HD display screens and supports 68,000X total magnification. Allowing you to see sub-micron level features without losing detail.



With its in-house, proprietary QuadraNT™ tube, Aspire FP™ detector, Gensys™ inspection software and QuadraGen™ power supply, Nordson DAGE introduces the future of X-ray image resolution, reliability, performance and throughput with the new Quadra™ Series.



About Nordson DAGE

Headquartered in Aylesbury, UK, Nordson DAGE is a unit of the Nordson Corporation and manufactures and supports a complete range of award winning digital X-ray inspection systems and bond test equipment for the printed circuit board assembly and semiconductor industries.  For more information, visit www.nordsondage.com.



About Nordson Corporation

Nordson Corporation engineers, manufactures and markets differentiated products and systems used for the precision dispensing and processing of adhesives, coatings, polymers and plastics, sealants, biomaterials and other materials and for fluid management, test and inspection, UV curing and plasma surface treatment, all supported by application expertise and direct global sales and service.  Nordson serves a wide variety of consumer non-durable, durable and technology end markets including packaging, nonwovens, electronics, medical, appliances, energy, transportation, construction, and general product assembly and finishing.  Founded in 1954 and headquartered in Westlake, Ohio, the company has operations and support offices in more than 30 countries.  Visit Nordson on the web at www.nordson.com, www.twitter.com/Nordson_Corp  or www.facebook.com/nordson.





More from Computer Hardware & Peripherals