Nordson ASYMTEK Receives Innovation and Vision Awards at NEPCON China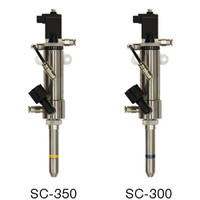 Carlsbad, CA, USA - 30 May 2018 - Nordson ASYMTEK a Nordson company (NASDAQ: NDSN), a leader in dispensing, coating, and jetting technologies, received two prestigious awards for innovative technology for its Select Coat® SC-350 Select Spray applicator for conformal coating applications. The Innovation Award, from Electronics Manufacturing (EM) Asia, and VISION Award, from SMT Chinamagazine, were presented at NEPCON China, held in the Shanghai EXPO World Center, Shanghai, China, on April 24 and 25, 2018.

The Select Coat SC-350 delivers superior edge definition and thin, uniform film coating thickness at high speeds. A clear understanding of atomized spray allows for innovative designs that optimize atomization of high-viscosity materials to spray solids or solvent-based materials such as silicones, acrylics, and urethanes. It reduces the "cobwebbing effect" that occurs when coating materials cure in air. This exceptional control of the spray maintains tight keep-out zones and enables thin film builds, which are critical in automotive and mobile electronics device manufacturing and assembly. When paired with Nordson ASYMTEK's SL-940 conformal coating system and Four-Position Tilt accessory, the SC-350 can be used vertically or tilted 30 degrees in four positions to spray all sides of a part and areas difficult to access. Using the Dual-Simultaneous configuration, process time is reduced 50%.

"It is always an honor to receive these awards for innovation and quality," said Eric Gu, application manager, Nordson ASYMTEK China. "Nordson ASYMTEK has a long history of providing dispensing and coating systems to customers in China, while ensuring award-winning local service and support. Our SC-350 has enabled atomized spray coating to reach new levels of speed and performance and opened new application opportunities for conformal coating."

For more information contact Nordson ASYMTEK at info@nordsonasymtek.com, call +1 760-431-1919, or visit our website www.nordsonasymtek.com.
About Nordson ASYMTEK

Nordson ASYMTEK, a world leader in precision fluid dispensing, conformal coating, and jetting technologies, designs and manufactures dispensing and coating systems, supported by an award-winning global applications and service network for over 30 years. To find out more, visit www.NordsonASYMTEK.com, or on social media.

About Nordson Corporation

Nordson Corporation engineers, manufactures and markets differentiated products and systems that dispense, apply and control adhesives, coatings, polymers, sealants, biomaterials, and other fluids, test and inspect for quality, and treat and cure surfaces, and are supported by application expertise and direct global sales and service. Nordson serves many consumer non-durable, durable and technology end-markets including packaging, nonwovens, electronics, medical, appliances, energy, transportation, construction, and general product assembly and finishing. Founded in 1954, headquartered in Westlake, Ohio, Nordson has operations and support offices in nearly 40 countries. Visit Nordson at www.nordson.com, Twitter or Facebook.
For information:
Nordson ASYMTEK: 
Roberta Foster-Smith
Tel: +1.760.431.1919
Email: roberta.foster-smith@nordsonasymtek.com

Agency: 
Andrea Roberts
AR Marketing
Tel: +1.858.204.9584
Email: andrea@armarketinginc.com

International Offices:
Headquarters, Carlsbad, CA: +1.760.431.1919 www.nordsonasymtek.com 
China: +86.21.3866.9166 www.nordsonasymtek.com/cn 
Europe: +31.43.352.4466 
India: +91.44.4353.9024
Japan: +81.3.5762.2801 www.nordsonasymtek.com/jp 
Korea: +82.31.765.8337 www.nordsonasymtek.com/kr 
Southeast Asia: +65.6796.9515 
Taiwan: +886.2.2902.1860
More from Electrical Equipment & Systems