Waterjet Cutters and Cutting Machinery
Nordson ASYMTEK Receives 2017 Global Technology Award for the NexJet NJ-8 Jetting System with ReadiSet 2-piece Jet Cartridge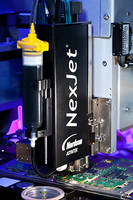 Award presented at Productronica 2017
Carlsbad, CA, USA - 7 December 2017 - Nordson ASYMTEK a Nordson company (NASDAQ: NDSN) and global leader in dispensing, jetting, and coating equipment and technologies, has once again been honored with the 2017 Global Technology Award in the dispensing category for its NexJet® NJ-8 Jetting System with ReadiSet® 2-piece jet cartridge. This innovative jetting system simplifies precision fluid dispensing for accuracy, flexibility, and long-term reliability in fast-paced production environments. The award was presented at Productronica 2017, held in Munich, Germany, on November 14, 2017.
Nordson ASYMTEK's jetting system's patented software ensures quality, stable, repeatable outcomes through management of the jet actuation to control fluid velocity, dot size and volume, dispense height, and automated process adjustments to handle fluid viscosity changes. Higher frequency jetting with the NexJet Jetting System allows for increasing throughput by as much as 50% in some applications.
The ReadiSet jet cartridge is quickly and easily removed, cleaned, inspected, and re-installed without tools, and only the parts that come in contact with the fluid have to be removed. This saves fluid, resources, time, and the cost of cleaning. Cost-of-ownership can be reduced by 30% over other jets due to fewer parts, longer life, and shorter cleaning time for higher equipment utilization.
"Improvements in cost-of-ownership, equipment availability, and ease-of-use were core customer-driven targets for the NexJet NJ-8 Jetting System. We are very pleased with the wide-spread adoption of the NJ-8 across such a large spectrum of industries and applications," said Garrett Wong, product manager for Nordson ASYMTEK. "We are honored to receive this recognition from Global SMT & Packaging."
The award was open to equipment, materials, and EMS companies of all sizes. Entries were judged on innovation, speed/throughput improvements, quality contribution, cost benefits, environmental consideration, ease of use/implementation, and maintainability/repairability.
The Global Technology Awards are sponsored by Global SMT & Packaging magazine, a Trafalgar publication, and judged by an independent panel of international industry experts.
For more information contact Nordson ASYMTEK at info@nordsonasymtek.com, call +1 760-431-1919, or visit our website: www.nordsonasymtek.com.
About Nordson ASYMTEK
Nordson ASYMTEK, a world leader in precision fluid dispensing, conformal coating, and jetting technologies, designs and manufactures dispensing and coating systems, supported by an award-winning global applications and service network for over 30 years. To find out more, visit www.NordsonASYMTEK.com.
About Nordson Corporation
Nordson Corporation delivers precision technology solutions that help customers succeed worldwide. Precision dispensing of adhesives, coatings, sealants, biomaterials, and other fluids, plastic extrusion and injection molding, electronics testing and inspecting, and surface preparation are supported by applications expertise and direct global support. Nordson serves consumer non-durable, durable and high-technology markets, specializing in packaging, nonwovens, electronics, medical, energy, transportation, construction, and product assembly. Founded in 1954, headquartered in Westlake, Ohio, USA, Nordson has operations and support offices in 30+ countries. Connect with Nordson at www.nordson.com.
More from Mechanical Components and Assemblies