Nordson ASYMTEK Exhibits Innovative Technologies for Dispensing and Conformal Coating Systems at IPC APEX 2017 Booth 1611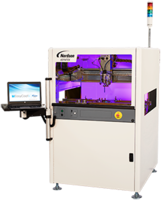 Sponsor of the IPC's 60th anniversary celebration
Carlsbad, CA, USA - 31 January 2017 - Nordson ASYMTEK, a Nordson company (NASDAQ: NDSN), will exhibit its latest and most popular technologies for fluid dispensing, jetting, conformal coating, and hot bar soldering in booth 1611 at the IPC APEX tradeshow, in San Diego, California, being held February 14-16, 2017. ASYMTEK is joining its sister Nordson companies to support IPC as it celebrates its 60th year in the electronics manufacturing industry.
Nordson ASYMTEK delivers a variety of precise, flexible, intuitive, and reliable solutions to solve modern manufacturing challenges. ASYMTEK's products offer value and uncompromising quality along with high throughput, ease of cleaning and operation, and low cost-of-ownership. Whether you run a small operation or manage an industry giant, ASYMTEK has the system that's right for you.
On display at IPC APEX will be ASYMTEK's Conexis™ and Select Coat® SL-940 conformal coating systems, which fit a wide range of needs for both spray and selective conformal coating. The systems feature one of ASYMTEK's newest developments, Dual-Simultaneous Programmable Pitch. Using this motorized bracket, two of the same applicators operate simultaneously to conformally coat two parts at the same time. The pitch is automatically repositioned to match the programmed pitch, increasing speed, accuracy, and repeatability. Coating process time is reduced by 50%-resulting in significant UPH improvement.
IPC APEX visitors can participate in a live demonstration of ASYMTEK's newest EasyCoat® 6 software and test its offline programming features and new user interface. Combined with Dual-Simultaneous Programmable Pitch, the process is automated and operator dependency and set-up time are eliminated.
For fluid dispensing and jetting solutions, Nordson ASYMTEK will demonstrate its Quantum® and Spectrum™ II Premier systems. Also on display will be the award-winning IntelliJet® Jetting System, the premier jet valve for achieving consistent small volume fluid dots at high frequency in long-term production. Nordson ASYMTEK's dispensing platforms are prized for their closed-loop process controls and high-yield production management and offer a wide range of configurations with a variety of scalable options and valves to handle the dispensing needs for the most challenging applications.
Nordson ASYMTEK service and support has received 12 Service Excellence Awards, winning every year they entered the contest. Their customer support legacy is an asset that sets ASYMTEK apart from its competitors. They are dedicated to supporting customers and helping them to succeed.
If you are looking for solutions for reflow soldering, heat seal, and ACF bonding, Nordson DIMA hot bar products will also be on display.
Talk with the ASYMTEK dispensing and coating experts. For information or to schedule an appointment, email info@nordsonasymtek.com, call +1 760-431-1919, or visit the website www.nordsonasymtek.com.
About Nordson ASYMTEK
Nordson ASYMTEK, a world leader in precision fluid dispensing, conformal coating, and jetting technologies, designs and manufactures dispensing and coating systems, supported by an award-winning global applications and service network for over 30 years. To find out more, visit www.NordsonASYMTEK.com, or on social media.
About Nordson Corporation
Nordson Corporation delivers precision technology solutions that help customers succeed worldwide. Precision dispensing of adhesives, coatings, sealants, biomaterials, and other fluids, plastic extrusion and injection molding, electronics testing and inspecting, and surface preparation are supported by applications expertise and direct global support. Nordson serves consumer non-durable, durable and high-technology markets, specializing in packaging, nonwovens, electronics, medical, energy, transportation, construction, and product assembly. Founded in 1954, headquartered in Westlake, Ohio, USA, Nordson has operations and support offices in 30+ countries. Connect with Nordson at www.nordson.com and on social media.
Nordson ASYMTEK:
Roberta Foster-Smith
Tel: +1.760.431.1919
Email: roberta.foster-smith@nordsonasymtek.com
International Offices:
Headquarters, Carlsbad, CA: +1.760.431.1919 www.nordsonasymtek.com
China: +86.21.3866.9166 www.nordsonasymtek.com/cn
Europe: +31.43.352.4466
India: +91.44.4353.9024
Japan: +81.3.5762.2801
Korea: +82.31.765.8337
Southeast Asia: +65.6796.9515
Taiwan: +886.2.2902.1860
More from Computer Hardware & Peripherals