NORD DRIVESYSTEMS Goes Mobile with New Bluetooth Commissioning and Service Solution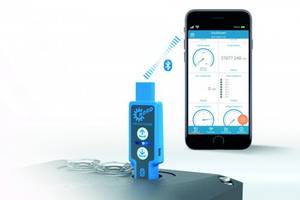 NORDCON APP and NORDAC® ACCESS BT provide wireless monitoring of variable frequency drives
NORD Gear Corporation, a world leader in industrial gear reducers, electric motors, and variable frequency drives (VFDs), announced the release of two products that enable convenient dashboard-based visualization to aid in the diagnosis, parameterization, and monitoring of NORD drive systems from a smartphone or other Bluetooth-enabled device.
The new NORDCON APP and NORDAC® ACCESS BT—a mobile app and Bluetooth stick—work together to provide a wireless solution for commissioning, drive optimization, and service requests for all NORD electronic drive systems, including extension units. This speeds up commissioning, simplifies maintenance, and enables problems to be resolved quicker, thus reducing downtime and costs.
"After extensive field testing and feedback from our customers, we are pleased to announce the release of the NORDCON APP and NORDAC ACCESS BT," said Dan Breitbarth, engineering manager of control products at NORD Gear. "Together these tools will empower our customers with improved visibility and control of their NORD drive units with convenient, wireless monitoring and diagnosis." 
The NORDCON APP is available for free download through the App Store for iOS and Google Play for Android users. The app includes a video tutorial on key features, including:
Dashboard-based monitoring of NORD drives with application-specific, customizable display options.
Drive parameter settings with support of context-sensitive help function, containing full parameter description from technical documentation.
Drive diagnostics and analysis via configurable four-channel oscilloscope.
The ability to send service requests to the local NORD support team directly from the app
The NORDAC ACCESS BT can be used directly with VFDs or motor starters. It allows users to transfer parameters from one VFD to another or from a drive unit and PC. It also has a backup and recovery function for peace of mind and easy handling of drive parameters. The Bluetooth stick can be purchased directly from any authorized NORD distributor.
A video overview of the NORDCON APP and NORDAC ACCESS BT is available on the NORD DRIVESYSTEMS YouTube channel. Watch it here.
About NORD DRIVESYSTEMS®
With more than 4,000 employees, NORD DRIVESYSTEMS has been developing, producing and selling drive technology for more than 50 years, and is one of the global leaders of full-service providers in the industry. In addition to standard drives, NORD delivers application-specific concepts and solutions for special requirements such as energy-saving drives or explosion-protected systems. In financial year 2017, annual sales amounted to $781 million. NORD now has subsidiaries and sales partners in 98 countries worldwide. The dense sales and service network guarantees optimal availability, enabling short delivery times and customer-oriented service. NORD produces a very diverse range of drives for torques from 88 to more than 2.2 million lb-in, provides electric motors in the power range of 0.16 to 1,341 HP, and manufactures frequency inverters with the required power electronics of up to 215 HP. Inverter solutions are available for conventional control cabinet installations as well as for decentralized, fully-integrated drive units.
NORD Gear | PO Box 367 | 800 Nord Dr. | Waunakee, WI 53597
Laurie ANDRES
Phone: 608-849-7300 x 2957
Laurie.Andres@nord.com
Getriebebau NORD GmbH & Co. KG
Getriebebau-Nord-Straße 1
22941 Bargteheide/Hamburg
Germany
Jörg NIERMANN
Phone: +49 45 32 / 2 89 -0
Fax: +49 45 32 / 2 89 -22 53
Joerg.Niermann@nord.com
More from Fluid & Gas Flow Equipment